7. Brooklyn Bridge Park
Plan a day-cation to this waterfront park, which offers 1.3 miles of riverfront to explore with spectacular playgrounds and so many more fun things to do.
8. Hit Another Destination Playground
We've played on plenty of playgrounds and deemed these 21 playgrounds the best romping spots in all of NYC.

Taking the ferry to Governors Island is just as much fun as playing on the island! Photo by Matt Nighswander
9. Hop a Ferry to Governors Island
Explore all of the attractions on Governors Island, including Slide Hill, the amazing adventure playground, Hammock Grove, a play lawn, climbing structures, and more.
10. Cast a Line
Enjoy free fishing at various Hudson River Park piers and Central Park's Harlem Meer.
11. Hit the Seashore
Did you know NYC has 14 miles of beachfront—and it's all free. Hit one of our favorite NYC beaches. All you need is a MetroCard (and your beach gear, of course).
12. Hit the Trails
The Staten Island Greenbelt offers destination-worthy trails to explore—and lots of them!
RELATED: 10 Waterfront Playgrounds in NYC

Explore New York City's floating park, aka Little Island, which offers tons of free summer activities.
13. Explore Little Island
NYC's floating park has been open for a little more than a year. If you haven't been, now's the time! Free timed-entry tickets are required on weekends.
14. Take a Dip
Swim at one of NYC's many public pools, which are open daily—free of charge—from Tuesday, June 28-Sunday, September 11.
15. Hit a Splash Pad
Mini New Yorkers are lucky to have so many sprinkler parks to explore; we've rounded up the 25 coolest splash pads in NYC.
16. Visit the Yard
This adventure playground on Governors Island is unlike any other playground in NYC and is free to visit on weekends. One caveat: Mom and dad will be stuck on the sidelines.

Climb to new heights at the Pier 57 rooftop park.
17. See a Stunning Rooftop View
Head one pier north of Little Island to explore the new Pier 57 rooftop park. Stunning Hudson River and city views await, plus a bird's-eye look at Little Island!
18. Catch an Alfresco Flick
Free summer movies abound in NYC parks during the summer months. Bookmark this roundup to see what's playing near you.
19. Go Roller Skating
This retro-activity is all the rage, and you can hit the ultra-cool DiscOasis at Central Park's Wollman Rink for free. Its Wollman Rink Access Program offers free tickets to all the action on a first-come, first-served basis daily to any visitors presenting an IDNYC or NYPL card at its box office.
20. Visit Bryant Park
This Midtown green space is a breath of fresh air, and while there's no traditional playground, there are plenty of places to play. We love the free summer activities including the open-air reading room, the game cart, and the plentiful free programming.
21. Hit the Trails
Despite living in an urban jungle, there are plenty of fun hiking trails to tackle in NYC.
22. Tackle an Outdoor Adventure
We've found 25 fun, family-friendly things to do all over NYC parks during the summer months.
RELATED: 25 Top Sprinkler Parks and Splash Pads in NYC for Kids

Go boating free in one of NYC's waterways. Photo courtesy of the Red Hook Boat House
23. Row Your Own Boat
We've found tons of free places to hit the water with a free kayak, rowboat, or sailboat ride on NYC's waterways.
24. Visit the Battery Playscape
This inventive new playground is fun anytime you want to play, but you can also plan your visit around the new free Playscape Performs series.
25. Fountain of the Fairs
When the heat gets to be too much, this mega splash pad at Queens Flushing Meadows Park is the perfect, mist-filled cure.
26. Van Cortlandt Park
This Bronx green space offers plenty of free summer programming, including a pool, a nature center, hiking trails, and more.
27. Charybdis Playground
We loved this newly renovated Astoria playground when we visited last fall, and have a feeling it's going to be even better with the sprinklers turned on this summer.

Alley Pond Park's Adventure Course brings back its popular free Sunday family programming in August. Photo courtesy of the NYC Parks Department
28. Alley Pond Park
Another Queens gem, Alley Pond Park has multiple playgrounds, a nature center, hiking, and an adventure course, which families can conquer for free on Sunday mornings in August, September, and October.
29. PuppetMobile
See a puppet performance in your local playground with the mobile CityParks Puppet Mobile, which pops up across the boroughs all summer long.
30. Imagination Playground
Catch a cool sea breeze as you watch the kids tinker and create with the trademark blue blocks at this water-centric playground in the South Street Seaport.
31. Central Park
Think you know this iconic green space? How many of these hidden fun things to do have you checked off? One of our favorite free summer activities is visiting the Chess and Checkers house!
32. Hit up a Destination Sand Box
You'll be surprised how much time a toddler can kill with a few sand toys and a trip to one of these eight sandboxes.
33. Toddler-Friendly Beaches
Prefer your sandbox with a side of wet-and-wild fun? These toddler-friendly beaches fit the bill.
34. Orchard Beach
For a beach day with plenty more to explore, head to the Bronx Rivera. When you're done in the surf, explore the rest of NYC's largest green space.
RELATED: NYC Playgrounds With Shade: Play It Cool at These Shady Parks in NYC

The nation's largest Independence Day celebration takes place in the East River each Fourth of July in New York City. Photo by Kent Miller for Macy's
Free Annual Summer Events in NYC
35. Macy's 4th of July Fireworks
There's no place better to celebrate Independence Day than standing shoulder to shoulder with other New Yorkers watching the Macy's 4th of July fireworks.
36. City of Water Day
Hit the city shoreline and the water beyond for one of our favorite annual fests, City of Water Day.
37. Bryant Park Movie Nights
There are plenty of free outdoor movie nights in NYC, but nothing beats the OG series, Bryant Park Movie Nights!
38. Mermaid Parade
Returning after a two-year hiatus, this only-in-NYC affair takes to Coney Island's sand-swept streets on Saturday, June 18.
39. Make Music New York
This annual summer solstice concert brings a joyful noise to city streets, parks, stoops, and more Tuesday, June 21.

Summer Streets brings a bevy of free entertainment to a seven-mile stretch of Manhattan's streets each August. Photo courtesy of the NYCDOT
40. Summer Streets
This annual street festival shuts down seven miles of Manhattan avenues allowing bikers, runners, walkers, and skaters to enjoy car-free fun and tons of family-friendly activities, performances, and giveaways. We're still waiting for confirmation on the 2022 dates, but it's traditionally the first few Saturdays in August.
41. BRIC Celebrate Brooklyn
This annual summer concert series at the Prospect Park Bandshell kicks off in early June and runs a full two months, bringing tons of diverse artists to the stage, all free of charge.
42. Museum Mile Festival
Stroll down Fifth Avenue when it's closed for this annual fest Tuesday, June 14, which allows visitors entry to some of Museum Mile's most fabulous culture spots free of charge, plus family-friendly entertainment and art-making activities in the streets.
43. Movie With a View
Head to the Intrepid Sea, Air, and Space Museum to spread your blanket on its flight deck and take in one of its free summer movies on select Friday nights.
44. Hong Kong Dragon Boat Festival
Flushing Meadows Park is the backdrop for this annual multicultural Asian celebration. Enjoy races on the water, plus traditional dance performances and foods for sale from Saturday, July 30-Sunday, July 31.
45. Egg Rolls, Egg Creams, and Empanadas
This Lower East Side fest celebrates the cultures that gave it birth with this action-packed fete on Saturday, June 26.
46. Adventures NYC
Head to Central Park for this Parks Department-sponsored celebration of adventure sports. Test your skills at rock climbing, zip-lining, stand-up paddleboarding, and more on Saturday, June 18.
47. SummerStage
Catch this season-long performance festival with tons of free, live concerts on stages throughout the five boroughs. Find the full calendar here.
RELATED: Best Beaches Near NYC: A Guide for Families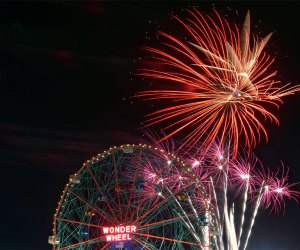 See the sparklers fly for free on Fridays all season long from the Coney Island Boardwalk. Photo courtesy of Coney Island
48. Coney Island Fireworks
See the sparklers fly every Friday night on the boardwalk from late June through Labor Day courtesy of Deno's Wonder Wheel Amusement Park.
49. Summer on the Hudson
From Playdates in Harlem to movies on the Upper West Side, there are free things to do all summer in Hudson River Park.
50. Hudson River Kids
Head further downtown to enjoy fun performance series in Tribeca and Chelsea, plus visit the Pier 40 Wet Lab for some eco-educational fun.
51. Figment Festival
Engage with the art at this hands-on festival, which moves to Snug Harbor for its run from Saturday, June 4-Sunday, June 5.
52. Movies With a View
Head to Brooklyn Bridge Park after dark for this special summer movie series on Thursdays in July and August.
53. New Victory at Little Island
For the second summer in a row, the well-known children's theater brings its programming to the stages in Little Island all for free, presenting a Russian folk tale and Upstream, music-heavy storytelling concert on select dates.
54. Hindu Lamp Ceremony
Spend the evening of Saturday, August 6 on the banks of the East River releasing palm leaf lamps into the sky in this annual Hindu ceremony.
55. Battery Dance Festival
Enjoy an entire week of pop-up dance performances during this annual dance festival running from Saturday, August 13-Friday, August 19.
Free Summer Camps, Classes, and Enrichment in NYC
56. Book a Free Summer Camp
Yes, they do exist and yes, we have the details here.
57. Free Classes at Local Shops
Bookmark this list of local spots offering free classes and enrichment in topics ranging from arts and crafts to nature activities.
58. Join a Free Summer Sports Program
From CityParks Play to New York Junior Tennis, we've got intel on all the places you can play sports for free this summer in NYC parks.
59. Swimming Lessons
Keep your eye on the Parks Department website to see when the lottery opens for its popular free summer swimming lessons. We've got details on past programs here.
60. Story Time
Find a story time at some of our favorite independent bookstores, libraries, Lincoln Center, and even in city parks.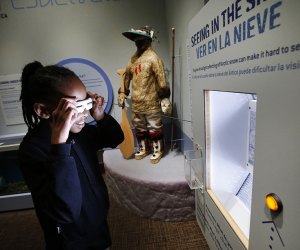 The National Museum of the American Indian at Bowling Green is one of our favorite, always-free places to explore. Photo courtesy of the museum
How to Experience Culture for Free This Summer in NYC
61. See Native American Artifacts
Visit the always-free National Museum of the American Indian.
62. Explore Socrates Sculpture Park
Queens' Socrates Sculpture Park is filled with funky, outdoor art and its waterfront location is always lovely on a summer day.
63. Hit The Public Theater
Shakespeare in the Park is back in town and Tony Award nominee Robert O'Hara takes center stage in its production of Richard III from Friday, June 17-Sunday, July 17. As You Like It takes over from Wednesday, August 10-Sunday, September 11.
64. See Shakespeare Uptown
Classical Theatre of Harlem puts on its show in Marcus Garvey Park. The title in 2022: Twelfth Night from Tuesday, July 5-Friday, July 29.
65. See The Bard on Staten Island
Shakspeare's Much Ado About Nothing plays at Alice Austen House on Saturday, July 30 courtesy of Hip to Hip Theatre Co.
RELATED: Central Park's Top Playgrounds Ranked for NYC Kids and Visitors

The New York Botanical Garden invites visitors to gather "Around the Table" this summer with season-long programming dedicated to food traditions, edible plants, and the foods we love.
66. Stop and Smell the Roses
The New York Botanical Garden blossoms with family-friendly programming and offers free admission to NYC residents on Wednesdays.
67. See What's Playing at Lincoln Center
The stunning performing arts complex is bringing its programming outdoors for the second summer in a row, with The Oasis, a huge outdoor dance floor acting as its centerpiece. Check our Family Activity Calendar for a schedule.
68. Picnic Performances in Bryant Park
This free summer-long performance festival brings everything from opera to contemporary dance, Shakespeare, and more to the stages in Bryant Park.
69. New York Philharmonic Concerts in the Parks
We love this free series of pop-up performances, which brings the world-class orchestra into every borough's backyard and includes a stunning fireworks finale. It's truly a spectacular rite of summer passage. Catch the concerts in Van Cortlandt Park on Tuesday, June 14; Central Park on Wednesday, June 15; Cunningham Park on Thursday, June 16; Prospect Park on Friday, June 17; and indoors at Staten Island's St. George Theater on Sunday, June 19.
70. Summer Concerts at Hudson Yards
This newcomer to the summer music scene brings a weekly live concert series to Hudson Yards' public square each Wednesday night in June and July.
71. Take Your Pick of Free Museum Admission
We've got the low down on all the times you can visit NYC's top cultural institutions without paying a dime. Got little kids? Here's where they get in for free, too.
72. Hit up Your Local Library
NYC's local library branches offer piles of free summer activities, enrichments, and books (of course!) Some of our favorite branches include the Main Branch on 42nd Street and its neighbor, the Stavros Niarchos Foundation Branch, Brooklyn's brand new Greenpoint and Adams Street locations, and the stunning Hunter's Point waterfront location in Queens.
73. Nab a Library Card
While you're there, make sure you apply for a free library card, which unlocks the branch services, and so much more from e-book platforms to free tickets to cultural institutions and more.
74. Hot Summer Nights
This live jazz concert series takes over the Kingsborough's Lighthouse Bandshell on the campus of Kingsborough Community College bringing a range of jazz and swing musicians to the community.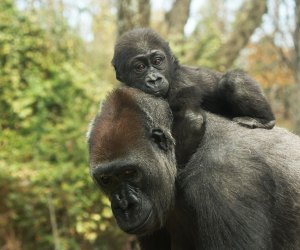 Enjoy an up-close look at the Bronx Zoo's animals during its pay-what-you-wish Wednesdays. Photo by Julie Larsen Maher/WCS
More Fun, Free Things To Do in NYC This Summer With Kids
75. Bronx Zoo
Head to the Bronx Zoo for its FREE admission day each Wednesday, but plan to book your timed-entry tickets when the site opens Monday at 5pm.
76. Catch the Ferry
We always love a ride on the Staten Island Ferry, with its stunning view of the Statue of Liberty. Make sure to stick around and enjoy all the family-friendly fun the borough has to offer.
77. Ride a Bike
We've found lots of family-friendly bike trails in NYC. If you're feeling brave enough to make a long trek, take to the Empire State Trail.
78. Find a Free Bike Rental
If you don't have two wheels of your own, don't fret: Head to Governors Island on a weekday morning to take advantage of Blazing Saddles' free bike rental (and car-free streets!).
79. Stay In
Have a lazy day and entertain your family with one of these 100-plus classic summer play ideas like catching fireflies and telling ghost stories.
80. Queens County Farm Museum
Spend a day at this Floral Park gem, the only working farm in NYC, which offers a bounty of fun all summer long.
81. Grand Central
Get lost in this commuter hub, which offers tons of family-friendly fun and nooks and crannies to explore.
RELATED: Visiting Governors Island: 20 Secrets for Things To Do and See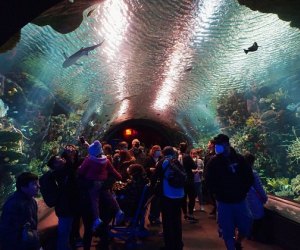 The only safe way to see sharks at Coney Island is at the New York Aquarium, which offers free entry on Wednesday afternoons.
82. New York Aquarium
See sea lions, sharks, and more at this Coney Island aquarium, where you can visit on Wednesday afternoons for free; just set a reminder to book your free tickets when the store opens each Monday at 3pm.
83. Staten Island Zoo
This zoo is a Staten Island treasure, and visits are free on Wednesdays after 2pm. Use the cash you saved for a ride on the Conservation Carousel.
84. FAO Schwarz
OK, we admit, a visit here can get pricey in a hurry, but if you set ground rules in advance, you can kill some time watching toy demos and dancing on the grand piano at the only-in-NYC toy wonderland.
85. Harry Potter NYC
Likewise, Harry Potter NYC offers plenty of eye candy and props to play with. Challenge your little one to a wand duel!
86. Play for Free
If FAO or Harry Potter seems too risky, might we suggest one of these other stores where kids can play for free.
87. Essex Street Market
Go on a Lower East Side food tour with a visit to Essex Street Market. Taste some samples and enjoy free, on-site, all-ages cooking classes.
88. South Street Seaport
There are plenty of free fun things to do in this plucked-from-the-18th century enclave.
89. Brooklyn Bridge
When's the last time you strolled across this iconic bridge? Pick a cool summer morning to make the trek, then stick around to explore all the fun things to do in Dumbo when you reach the other side.
90. Roosevelt Island Tram
OK, so it's not exactly free to climb aboard this amusement-park-like form of public transit, but if you've already got an unlimited ride MetroCard, it won't cost a dime. In return, you get million-dollar views and a whole new isle to explore.
91. Times Square
While much of the Crossroads of the World comes with a tourist-inflated price tag, the people-watching is always entertaining and free. Looking for something else to do while you're there? Here are our top picks.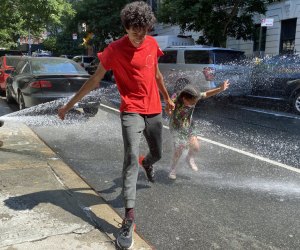 What's more quintessentially New York than playing in the neighborhood hydrant when the heat and humidity soar?
92. Frolic in a Fire Hydrant
When the temperatures soar, you don't have to go far to find a local fire hydrant that's been opened for kids—and adults—to play in.
93. Rockefeller Center
Only visit this complex during the holiday season? It's time to re-visit. There are fun stores to play in, cool art to see, a brand new elevated park with fun family concerts, a stunning cathedral, and so many more fun free things to do.
94. CAMP
With locations in the Flatiron, Hudson Yards, Brooklyn's City Point, and Columbus Circle, this chain of toy stores always has something fun to do and interactive experiences to play with. Most are free.
95. Manhattanhenge
Stake out your viewing spot for this sunset phenomenon, when the sunset aligns perfectly with Manhattan's grid. In 2022, the remaining Manhattanhenge dates are Saturday, July 11-Sunday, July 12.
96. Strike a Pose
Fill your days with adventure and your Instagram feed with cool pictures by visiting these 13 cool spots for a family photo in NYC.
97. Bushwick Collective
See stunning, larger-than-life art in this Brooklyn neighborhood that's been transformed into a street art gallery.
98. Celebrate a Summer Baby
If you've got a milestone to mark, bookmark this list of birthday freebies so you cash in! We've also got a list of parks that are perfect for a summer party.
99. While Away a Rainy Day
If summer thunderstorms leave you sidelined, bookmark this list of 65 fun things to do indoors on a rainy day.
100. Check our Bucket List
Done all of the above? See what you can cross off on this list of 100 things to do with NYC kids before they grow up. Many are free.
Originally published in 2014. Unless noted, photos by the author