Ocean crafts are a fun way to connect with the ocean especially for those of us that live nowhere near a shoreline. Kids of all ages will find the perfect ocean craft project or fun ocean themed activity for home or in the classroom.
Best Ocean Crafts And Activities For Kids
Below you will find a huge selection of ocean activities that cover everything from shells, to ocean zones to fish. These activities really get your kids exploring and thinking about the sea life!
We broke up this huge list into a few different sections to help it easier to navigate. They are:
FAvorite Ocean Crafts For Kids
1. Ocean Origami Paper Crafts
Grab your colored paper and googly eyes! Your little one will be able to manipulate colorful and decorated paper to make these super cute origami fish! This ocean animal craft is based on the Dr. Seuss book, One Fish, Two Fish, Red Fish, Blue Fish.
Make an origami shark with a few strategic folds of your construction paper! Oh, and this easy shark craft turns into a corner bookmark.
Does your child love sharks? Celebrating shark week? Then you'll love these shark crafts for kids. You'll be making sharks out of pool noodles! Don't forget the googly eyes and sharp teeth!
2. Rainbow Fish Crafts for Kids
Remember the storybook Rainbow Fish by Marcus Pfister?
This rainbow fish craft is based on the story book! Use tissue paper to make your colorful fish as you enjoy the beloved children's story.
Another rainbow fish craft! This is a great craft for preschoolers and requires very little prep time and only requires a few supplies. Cut out the outline of a fish with black construction paper, stick it on contact paper and let your child rip up construction paper and add in the scales.
3. Giant Squid Craft
Learn about giant squids while you're doing this giant squid craft. All you need is an old t-shirt, fabric paints, ribbon, stuffing, scissors, and of course the giant squid template.
4. Fish Crafts for Kids
5. Ocean Craft Based on If You Want to See a Whale Book
This craft is based on the book If You Want To See A Whale by Julie Fogliano. This ocean craft for kids is perfect for toddlers and preschoolers! You may need to cut out the boats and sun, though stickers would be great here.
6. Under The Sea Craft
Paint pictures under the sea! Stamp big orange fishes, add seashells, dolphins, starfish, crabs, seaweed, and even kelp!
7. Ocean Octopus Crafts for Kids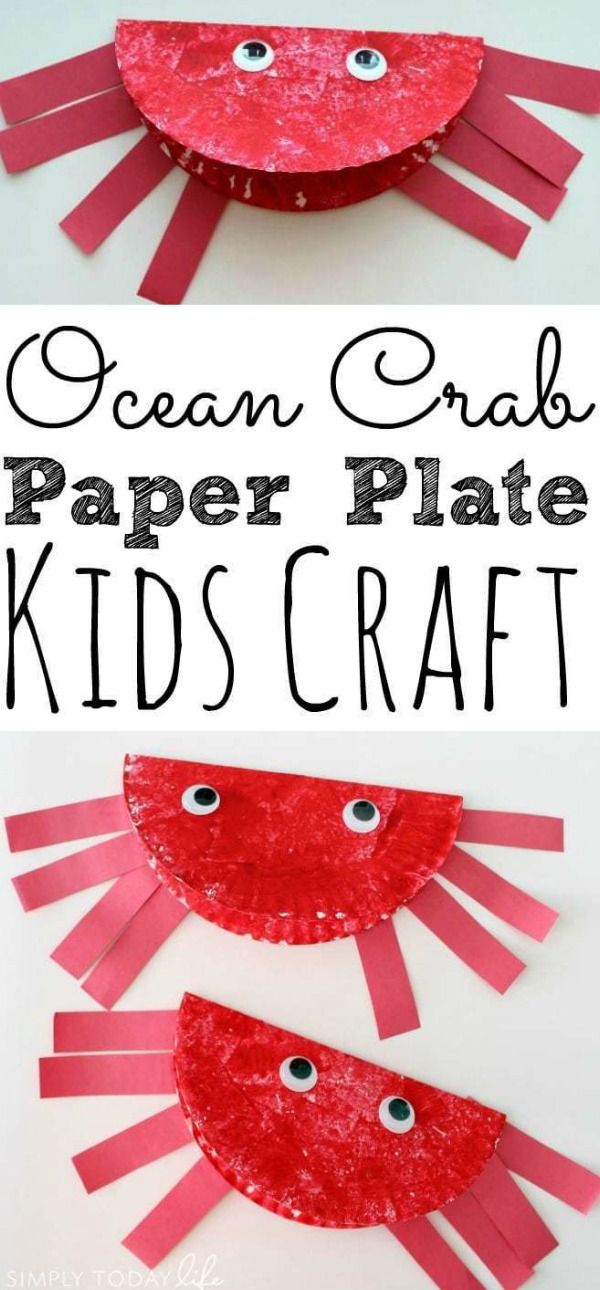 8. Turtle Crafts for Kids
Let's make this cute turtle craft for preschool that starts with a cupcake liner.
Making a handprint turtle is super easy. All you really need is a hand, green paint, blue paint, white paper, and a black marker!
9. Orca Craft
Orcas get a bad rep, and….it's a little deserved in some instances, but this little guy looks so friendly and happy! This orca craft is super easy to make, all you need is paint, a paper plate, googly eyes, and some scrap paper.
10. Fish Bowl Crafts that are Mini Ocean Scenes
We love this easy paper plate fish craft.
Want to know how to make a paper plate fishbowl? It's super easy, however this ocean craft will require a little help from mom or dad. All you'll have to do is cut the paper plate in the shape of the fish bowl and draw a simple fish, the ground, and maybe a piece of kelp.
Make this fish bowl craft for kids of all ages.
11. Ocean Worthy Boat Craft
Animals are not the only things in the water. Boats float in the water too! This boat craft let's you make a great big ocean liner! The best part is, it is made with recycled stuff like toilet paper rolls and boxes.
12. Easy Jellyfish Crafts
13. Lobster Craft
Lobsters are another sea creature I feel like doesn't get a lot of love…unless it's being eaten, yum! This handprint lobster is super cute and is a great keepsake.
14. Shark Crafts for Kids We Love
15. Crab Craft
Crabs are such odd critters. They're very funny looking. So why not make one using paper plates, google eyes, and construction paper, and red paint. This paper plate crab craft is perfect for preschool kids and kindergarteners.
16. Starfish Craft For Kids
Starfishes are super easy to make. Cut out a star, paint it, and then add little star noodles for textures! It's actually super cute, and simple.
17. Sea Animal Crafts
Fish are not the only crafts to make! There are so many sea animal crafts from crabs, urchins, fish, octopus, pufferfish, and more!
18. DIY Sand Mold Craft to Remember the Ocean
Try making this beautiful sand mold craft without ever having to go to the beach.
Recommended Craft Supplies For Kids Ocean Crafts
You probably have quite a bit of crafting supplies in your repertoire as is and that's great (we love when you don't need to buy anything special for a craft project)! Here is a list of basic ocean craft supplies we recommend:
Ocean Art Projects for Kids
19. Shark Art Projects
Make a family of sharks using your fingers! I actually really like this because it allows your child to easily make 5 cute little sharks. This fingerprint shark art is super cute, but will take a little work to make them perfect!
20. Fish Aquarium Art
I adore this craft. It's super cute, colorful, and can be used as the most precious keepsake. Look at all the little fishies! And the crab looks so surprised. This fingerprint fish aquarium may be a little easier for older kids in kindergarten and up, but can be done with younger kids with a little help.
21. Ocean Themed Sand Painting Art
Have you even painted with sand? If not you're missing out. This sand painting is not only ocean themed, but doubles as a sensory craft as well.
22. Sea Painting with Ice Art Project
Looking for some awesome sea painting ideas? We found one for you! Ice painting! Freeze paint and plastic sea creatures to create awesomely messy art.
23. Ocean Scene Resist Painting
Make a beautiful ocean scene using ink and tempera pain. This is a really unique craft, one I think better suited to older kids. Probably first grade and up as pink can be a little unforgiving.
24. Tide Pool Art Project
I actually really like this tide pool art project. It's super cute. Grab your water colors, crayons, glue, and sand!
25. Ocean Art Make with Rocks
Find the perfect stones to paint and then paint them to look like fish! Make them all of your favorite colors and don't forget to add shiny fins so they get go to and fro. Rock painting is a lot of fun.
26. Clown Fish Tape Resist Painting Art
Ever hear of tape resist? You use tape to keep paint clear of a certain area which is perfect since this clown fish painting is orange, white, and black.
27. Fish Keepsake Art
Keepsakes are the best and I love this particular one. It would be a great gift for mom, dad, grandma, or grandpa. Paint your little one's hand and then stamp it on the tile and turn it into a colorful fish. Everyone will love this handprint fish tile keepsake.
28. Ocean Potato Stamping Art
Grab potatoes and paint to do some ocean painting! Make water, fishes, starfishes, sea turtles and more! Who knew potatoes could be used as a stamp!?
Ocean Activities for Kids
29. Ocean Books For Kids
Reading is a great activity and an important one. Here are 10 ocean books for kids! Each one has fun ocean facts for kids.
There is an ocean yoga book called Commotion In The Ocean by Giles Andreae. This would be such a fun way to get your kids moving and stretching!
Learn about the ocean and all the habitants that live there with these 40 children's books about ocean animals.
30. Ocean Costumes
Promote pretend play with this super cute jellyfish costume. You could also use it for Halloween or a costume contest.
31. Ocean Theme Fine Motor Skill Practice
32. Preschool Ocean Activities
33. Beach Scavenger Hunt
Get moving at the beach with this beach scavenger hunt! Can you find everything on the list?
34. Ocean Animals
Learn about the ocean and ocean animals with these fun activities. Books, coloring sheets, lacing cards, and color matching ocean animals are just a few fun ocean activities that will help your little one learn about the animals of the ocean.
Learn about ocean animals with this fun card matching game! Match the pictures with the plastic ocean animals and their names spelled out.
35. Learn About The Ocean
Learn about the ocean with all of these great ocean facts. These ocean facts are great for any kids, older or younger, who love the water and all the creatures and plants within!
36. Sorting Shells
Teach art and math by sorting shells! Sorting shells can help teach your child shapes, sizes, and colors.
37. Beach Yoga
When the weather is nice, there is no better time to go to the beach. Swimming and building sand castles isn't the only thing you can do. Spend time doing beach yoga, it is good physical exercise and good for mobility.
38. Ocean Play Box Activities
Put on a play with this ocean play box. This is a super cute craft and activity. Add animals, their homes, and even a mermaid.
Using double sided contact paper let your little one create ocean scenes. Use stickers, foam, pictures, shells, and more to make the ocean.
39. Shark Activities
Ocean Games for Kids
40. Throw Fish Into The Ocean
What a cute game that gets your little one moving! This will take some DIY on your part making the "ocean" aka swing, but as your child swings back and forth they'll have to toss fish into the bin (ocean.)
41. Beach Themed Bath Play
Make your bathtub beach themed! Let your child decorate and paint with foam sheets, shaving cream, sea salt, bath toys, and a bath bomb.
42. Fishing Game For Kids
Looking for a fishing game for kids? Look no further! This DIY pipe cleaner fishing game is super easy! All you have to do is make super cute sea critters out of pipe cleaners and then catch them with a magnet.
Make bathtub fun with this fishing game! Bathtub fishing is easy to do. All you really need are magnets and a magnet attached to a homemade simple fishing pole.
43. Ocean Letter Learning Game
Learn about letters and words with this beachcomber game. All you need is large sea shells, chalk, scrap wood or driftwood, alphabet stickers.
Ocean STEM Activities
44. Ocean Habitats For Kids
Learn about the different zones of the ocean with this ocean habitat project. They will be learning about the 5 layers of the ocean: sunny zone, twilight zone, dark zone, abyss, and trench as well as what animals live in each level.
45. Ocean Water
Ocean water is salty and more dense than fresh water. Make salty ocean water and teach your child about density and then, using a water bottle, make waves!
Want to know why freshwater fish can't survive in the ocean and why saltwater fish are able to survive in saltwater? This salt water experiment will teach you why!
Learn about tide pools and the tide with this fun science experiment. You'll be making your very own tide pool and using water to simulate the tide so you can better understand how it works.
46. Science At The Beach
Science and the beach go hand in hand. It is the greatest place to learn about marine biology after all. Here are 5 ways you can help teach your child science while you're at the beach.
47. Whale Experiments and Facts
Ever wonder just how big a blue whale really is? Well you can get the answer with this fun stem activity. On average they are between 70-90ft. Now, and make sure you're careful, you'll be measure and drawing the blue whale out on the street using chalk.
We know that blubber keeps animals warm and whales have a ton of it! Well, your child can learn about blubber in this blubber experiment. 
Ocean Printables
48. Ocean Preschool Printable Packs
49. Ocean Math Worksheets
50. Ocean Word Printables
Learning to write can be tedious and boring, but it doesn't have to be. This ocean border writing paper is a lot fun! It has dolphins, fish, sharks, octopus, whales, jellyfish, and more!
The ocean has so many different animals in it! Learn about the different animals with these free printable ocean word cards.
51. Ocean Printable Games and Activities
52. Ocean How To Draw Tutorials
Ocean Coloring Sheets
53. Ocean Coloring Pages
54. Ocean Facts Coloring Pages
55. Ocean Coloring Zentangles
56. Ocean Color By Number Printables
Grab your coloring supplies, you'll need them for this free printable shark color by number worksheet.
Ocean Themed Sensory Play
57. Ocean Sensory Bins
58. Ocean Sensory Bags
59. Ocean Sensory Bottles
You know who else is in the ocean? That's right, Dory! Your kids will love this Finding Dory sensory bottle!
Calm down with this ocean sensory bottle. All you need is an old water bottle (They used Voss), glow in the dark aquarium shells, and water. Watch as the colored shells go to and fro in the water.
Help your little one relax with this ocean in the bottle. It works as a calming bottle and your child can watch the seashells swish back and forth and watch the glitter settle.
60. Water Play
Fill the sink with blue water and use foam to create pads and boats. Then let your child play with plastic ocean figurines, fishes, and seashells. Water play is so much fun.
Love turtles? Then turn this little pool into a water table using toy turtles, flora, and stones….don't forget the water. This turtle themed water table is a ton fun.
Water, water beads, and mechanical fish is all you need for this simple, but fun ocean sensory bin. 
61. Ocean Sensory Play
Grab an old mirror, sand, glass pebbles, plastic sea critters, and and seashells. They'll be able to play, touch different textures, and even see their reflections. They'll have to play gentle with this ocean sensory play though. Glass pebbles on a mirror could be a little rough.
This ocean sensory table is filled with bath beads, rocks, fishes, divers and even a truck!
Learn about the ocean as well as land and air with this fun sensory table. This earth sensory table explores (most, no fire for obvious reasons) elements of the earth. This is a fun way to not only learn about the Earth, but about the elements as well.
Ocean Themed Snacks
62. Ocean Lunches
Octopus and fish is what's for lunch! Don't worry it's not a real octopus! This healthy-ish lunch is perfect for anyone who loves the ocean.
Make your child's lunch fun with this under the sea themed lunch. Turn pitas into boats, pastas into waves. Turn their veggies into fishes!
Pitas that look like the ocean with a whale? Fruit and veggies cut up to look like an ocean habitat? Yes please! This ocean bento is super adorable.
Make another ocean bento box with ocean friends. Use little toothpicks with whales on them to make it look more festive. Make couscous with little carrot fishes and top yogurt with star sprinkles.
63. Ocean Snacks
If you have a preschooler or toddler you have probably seen the show Octonauts. During the show they sometimes enjoy fish biscuits, and while these may not be the exact same, your kids will love eating these Octonauts fish biscuits.
These devilled eggs look like little sail boats. They're tasty, with a touch of paprika, and have pepper sails.
This healthy ocean snack is perfect for lunch time or snack time! It looks like a sea turtle but has delicious fruit and bread! I won't lie I would probably add some delicious nut butter or a smear of cream cheese or yogurt to make it even tastier.
64. Ocean Sweets
Ocean Playdough
65. Ocean Playdough
This blue ocean play dough recipe is fun to make and play with seashells or other sea toys.
Take playdough and squish it out. Then use seashells as stamps! Look at the patterns they leave behind. Shells and playdough are a fun combination.
66. Ocean Slime
I love this ocean slime! It's blue and sparkly. I love all things sparkly though. Don't forget to add little sea creatures and then stretch, pull, and squish the slime!
67. Ocean Playdough Games and Activities
Which ocean craft or activity is your favorite? Which one will you be trying out?