On a stretch of beach along the "First Coast" of Florida sits Amelia Island and Fernandina Beach, two destinations not typically associated with kid-friendly fun. But amid all the retiree splendor, enterprising families will have no trouble entertaining little ones. Fernandina Beach and Amelia Island, Florida boast four seasons of fun, including award-winning beaches, destination-worthy state parks, plenty of mini golf, and a host of family-friendly dining options.
Here are 25 things to do in Amelia Island and Fernandina Beach with kids, including Fernandina Beach and Amelia Island restaurants kids will love and family-friendly Fernandina Beach and Amelia Island hotels and resorts. For more family vacation ideas in the Sunshine State, check out our Florida Family Travel Guide.
Outdoor Things To Do in Amelia Island and Fernandina Beach with Kids

Amelia Island is home to 13 miles of beautiful beaches. Photo courtesy of ameliaisland.com
1. Hit the Beach
You came to Florida, so of course you want to visit one of its gorgeous beaches. Peters Point Beachfront Park in Fernandina Beach offers amenities that include public showers, bathrooms, parking, and more. The water close to the shore is calm and perfect for little ones eager to splash around. There are also great beaches in the region's state parks, including Amelia Island State Park and Big Talbot Island and Little Talbot Island state parks (more on those later).
This greenway in Fernandina Beach offers 300 acres of unspoiled nature discovery. Its coastal waterways and habitats feature turtles, sea birds, bobcats, and alligators in the wild. Walk or bike; just make sure to stop at one of the many interpretive centers along the trails to enhance your experience. Friendly, leashed dogs are welcome.
Fort Clinch State Park is one of northern Florida's top tourist attractions. A former Union garrison during the Civil War, it was converted into a state park after World War II. A battery of guns points across the St. Mary's River to Confederate Georgia. Learn about the life of a Civil War soldier through the park's many living-history exhibits. Afterward, enjoy a hike or bike ride; the beaches around the fort are loaded with shark teeth.
Related: Jacksonville with Kids: 45 Best Things To Do in Jacksonville, Florida

There's lots to explore on Boneyard Beach. Photo courtesy of Big Talbot Island State Park
4. Other State Parks
The diversity of Amelia Island's natural world is on display at a number of other state parks in the region. Two of our favorites are the aptly named Amelia Island State Park and, a few miles to the south, Big Talbot Island State Park. The unspoiled wilderness and marshes of Amelia Island State Park attract fishermen, beachcombers, and anyone interested in a glimpse of "old Florida." Boneyard Beach is the highlight of Big Talbot, so named because the volume of fallen driftwood trees gives it a graveyard feel. It's a lovely white-sand beach, too.
5. Paddle Around
Need some quiet time for reflection? Amelia Island's rivers, streams, and peaceful inland waters are ideal for a day of paddle boarding or kayaking. Amelia Island Kayak Excursions, Amelia Adventures, Adventures Up the Creek, and Riptide Watersports all offer kid-friendly group excursions or the opportunity to escape as a family.
Related: St. Augustine, Florida: 25 Best Things To Do with Kids

Go horseback riding right on the beach. Photo courtesy of Happy Trails Walking Horses
6. Ride a Horse
Amelia Island is one of the only places in Florida where visitors can ride horses directly on the beach. In fact, it's the only place at all to beach-ride near Jacksonville. The wide stretches of hard sand make for a memorable experience for riders of all abilities. Check out the riding options at Amelia Island Horseback Riding, Happy Trails Walking Horses, and Kelly Seahorse Ranch.
6. Take a Cruise
Amelia River Cruises in Fernandina Beach offers ecological discovery tours that include dolphin, manatee, and sea turtle expeditions. But for a real treat, take a family-friendly sunset cruise; kids will never look at the setting sun the same way.
8. Go Surfing
Whether you're a novice or an expert, you will find a place to challenge your surfing skills in Amelia Island. And if you want to refine those skills, consider a lesson or surf class at Amelia Surf Company or Surf Asylum. There's even a surfing league in Fernandina Beach for those who want to compete while improving.
Related: 50 Fun Things To Do in Miami with Kids

Practice your putt-putt skills at Heron's Cove at Omni Amelia Island. Photo courtesy of Heron's Cove
9. Play Mini Golf
The World Golf Hall of Fame is in nearby Ponte Vedra Beach, but you don't have to be a Hall of Famer to delight in mini golf in Fernandina Beach. Take your pick from among Gregor MacGregor's, Heron's Cove, Island Falls Adventure Golf, Putt-Putt Fun Center, and others.
Amelia Island's pirate past is celebrated at this popular Fernandina Beach playground. Set among shady trees and enhanced by a sweet ocean breeze, the playground sees four seasons of activity. Enjoy sand pits, swings, climbing structures, and more. There are also benches, picnic tables, and restrooms.
11. Frolic at a Festival
As you might expect in Florida—even northern Florida— Amelia Island hosts festivals 12 months a year. The island celebrates the arts in January and February, classic cars in March, foodie fun in September, and craft beer and jazz in October. The most family-friendly festival, however, might be the Isle of Eight Shrimp Fest in late April, where pirates parade, music plays, and dozens of local shrimp dishes are available for sampling.
More Fun Things To Do in Amelia Island and Fernandina Beach with Kids
This nature center has welcomed families since 1997. In addition to its naturalist-managed turtle, marine mammal, and snake discovery areas, the center rents kayaks, stand-up paddleboards, and bicycles for those who want to explore the ecosystem. Families can also book a special activity such as a Shark Tooth or Sea Turtle Discovery, a Crab Grab, and Fishing 101 through the center's Family Discovery Series for a fee.
Related: 75 Things To Do in Orlando with Kids Other Than Theme Parks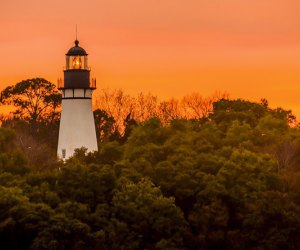 Visit Florida's oldest lighthouse. Photo courtesy of fernadinabeach.com
Dating to 1838—before Florida was even a state—the Amelia Island Lighthouse in Fernandina Beach is the oldest in Florida. The grounds are open to the public on Saturdays from 11am-2pm, or you can book a tour of the lighthouse's interior on the first and third Wednesdays of each month. Alas, the 67-foot-tall tower is closed to the public.
Kids can travel back in time 4,000 years to discover the spirit of Amelia Island at this history museum. Celebrate the Native American culture of the Timucua tribe, the lawless pirate years, and the era of French and Spanish exploration with exhibits that run right up to modern-day Florida.
15. Become a Pinball Wizard
At Amelia Island, history really can be all fun and games. The Fernandina Beach Pinball Museum teaches young and old about the history behind these arcade games and even lets you try out a few.
16. Amelia Island Escape Rooms
Why would anyone want to escape from Amelia Island? But if you must scratch that itch, the island boasts one of the top escape rooms in northern Florida, with options for kids of almost every age. Check out the four rooms of Amelia Island Escape Rooms, including the pirate-themed Greybeard's Treasure.
Related: 30 Things To Do Near West Palm Beach with Kids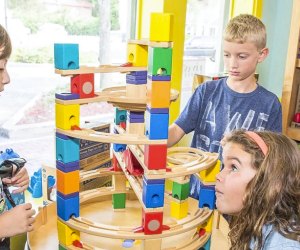 Villa Villekula has great toys for kids of all ages. Photo courtesy of the store
17. Go Shopping
There is a blessed absence of malls on Amelia Island. If your kids want to browse, send them instead to the historic downtown, where they will find a host of eclectic and trendy boutiques. Villa Villekulla is a family-owned store that offers carefully curated educational toys for toddlers to preteens. The Monkey Barrel boutique offers premium children's clothing. While you're there, explore the art galleries, bistros, and other specialty shops that make Fernandina Beach so charming.
Fernandina Beach and Amelia Island Restaurants for Families
18. Breakfast Spots
Whether you prefer a sit-down meal or grab-and-go with a cup o' joe, there is no shortage of breakfast destinations in Fernandina Beach and Amelia Island. Amelia Island Coffee and Aloha Bagel and Deli offer simple, but tasty starters. Parkway Grille, Ms. Carolyn's, Leddy's Porch, and Garden Street Bistro are worth a visit if you aren't in a rush.
 
Try the shrimp or fish tacos at Timoti's. Photo courtesy of the restaurant
19. Lunch and Dinner Restaurants
The epicenter of the shrimping industry in Florida would figure to have some great seafood options. The Salty Pelican offers tasty seafood, great sunsets, and a lively atmosphere. Timoti's delivers tasty shrimp and fish tacos. Try Wicked BAO for Thai, Cucina South for Italian, and Peppers for family-style Mexican.
20. Sweet Treats
Fantastic Fudge, Nana Teresa's, and Island Time Ice Cream all make a sweet end to your meal. But there's more: Try DeNucci's and Cinammon Bear Country Store for other ice cream options, and Stephanie'e Sugar and Spice Cafe for cookies and more.
Kid-Friendly Fernandina Beach and Amelia Island Hotels
This luxury beachside resort features three golf courses, nine restaurants, water activities, a shopping village, a nature center, a fitness center and spa, and a family activities program. There are also two large heated pools and a nautical-themed splash pad perfect for little ones. Kids will love the Gamer's Lounge, the mini golf course, and the Camp Amelia kids' club for ages 4-10.
Related: Best Florida Beaches Near Orlando for a Day Trip with Kids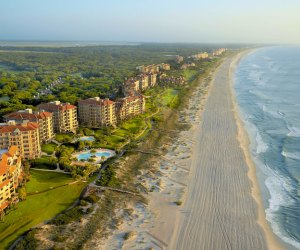 The Villas of Amelia Island offer the comforts of home with resort amenities. Photo courtesy of Omni Hotels
If you want to enjoy all of the amenities at Omni Amelia Island but need more space for your family, the Villas of Amelia Island are a great option. The privately owned villas have one, two, or three bedrooms, and most also boast spacious living areas, fully equipped kitchens, and multiple bathrooms. You can choose a villa near a golf course, tennis courts, a pool, or the beach.
With an outdoor pool, a fitness center, gorgeous views of the Fernandina Beach Marina, and close proximity to Amelia River cruises and carriage tours, this affordable downtown Amelia Island hotel is a great option for families. There are a variety of rooms and suites available, some of which are pet-friendly. Enjoy a free hot breakfast every morning, too.
The Residence Inn Amelia Island is located just two blocks from the beach and close to Fort Clinch State Park and the Fernandina Beach historic district. Every room is a spacious suite with up to two bedrooms, full kitchens, and large flat-screen TVs, making them spacious and comfortable for families. The hotel also features an outdoor pool, a fitness center, and a free daily hot breakfast.
As luxurious as this stunning beachfront resort is, it's surprisingly kid-friendly. The seasonal Ritz Kids program provides children ages 5-12 with a full or half day of supervised games and activities. Children can also enjoy Kids' Night Out on Friday and Saturday evenings, indoor pirate campouts and pirate tuck-ins, crafts, and shark-tooth hunts. Most of these activities cost extra, but kids can enjoy arcade games, ping-pong, and more in the Our Space lounge for free. The Ritz also boasts indoor and outdoor pools, tennis courts, a golf course, a spa and fitness center, and several on-site restaurants.