When the first heat wave of summer hits Houston, it hits hard. And as every Houstonian knows, once it comes it's here for the long haul, sometimes well into "fall." This means it becomes crucial to find fun ways to keep kids cool without locking them indoors—and a good splash pad is one of the best ways we know how. 
The free splash pads below are our favorites, so we've rounded them up for you to find your newest summer chill spot. If you're visiting outside of summer months, be sure to check the park website before heading out. 
For even more summer fun, be sure to check out these amusement parks, theme parks, and water parks within driving distance of Houston, and our Summer Fun Guide; they're sure to make the summer months a blast. 
Splash Pads Near Houston: Southeast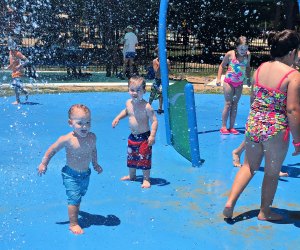 Little ones love playing at the Monroe Field Splash Pad in Seabrook. Photo by Ashley Jones
The crown jewel of this splash pad in Seabrook is a pirate ship with a wheel that directs a water spray. This splash pad is great for little ones because the entire thing is fenced in, and there are plenty of shaded picnic tables at the edges of the splash pad for parents to hang out while kids run around in the water. While you're there, check out our Insider's Guide to Exploring Seabrook.

Brookglen Splash Park photo courtesy of City of La Porte, Facebook 
Ample space to run around, a large, rainbow-colored dragon, dumping buckets, and animals that spray water from their mouths make this a water play area your kids won't want to miss. 
Aptly named for the several dolphin structures spouting water, this spray ground is located near the boat ramps at Clear Lake Park and gives guests an extensive view of the lake. It also has plenty of shaded areas for parents to sit, public restrooms, and outdoor fitness equipment for those wanting to get in a workout while the kids play. 
Prepare to make a day out of a trip to any of the City's six spray parks in Baytown, because barbecue pits, a playground, and plenty of trails make them all a perfect day-cation destination. 
Spray Parks in Baytown include Roseland Park, Bergeron Park, McElroy Park, Pelly Park, Central Heights Park, and Jenkins Park.

The bases are loaded at Texas Avenue Park Splash Pad.
This is a truly unique splash pad fit to steal any baseball-loving kid's heart. Instead of the traditional water-themed sprays, baseballs spout out water here. There are even bases to run around, making this water play area a home run. 
The spray park at Wright Cuney has water spraying up from the ground and dumping from buckets overhead. The Recreation Center also has a playground, covered picnic tables, and basketball courts. 
After a trip to the beach, you can head on over to the Splash Pad at Menard Park where kids can get out any extra energy they may have while washing off the unavoidable layer of sand that comes with being on the beach all day.
An airplane in the middle of the pad is the defining feature of this spray park. Water shoots straight up from the ground, making it a good splash pad for younger kids, since there is no dumping water and very few frills. There's also plenty of parking, as well as places to sit and public restrooms.
Splash Pads Near Houston: North
This includes North Houston, Northeast Houston, and Northwest Houston.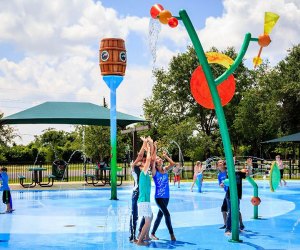 Kids cool off at the Zube Park splash pad. Photo courtesy Harris County Precinct 3
Nestled in Lents Family Park East is a splash pad kids are sure to love. It spouts water from the ground and has sprays the kids can aim and control as well as pipe tunnels to run through. It's also gated, giving parents reassurance that their kids are safe.
 
May Valley Parks Splash Pad photo courtesy of Woodlands Township, Facebook
This wooded paradise of a park in The Woodlands features a splash pad under plenty of shady trees. Kids can run amok as buckets full of water dump from overhead and ground sprayers splash up and around. If you have time, check out more of our Top Things To Do in The Woodlands.
This splash pad located near Grogan's Mill features plenty of water features that will have your kids loving every moment they spend playing. Water sprays up from the ground, as well as out of large pipes and directional sprayers overhead. 
This splash pad has a pipe tunnel that looks like a frog, large flowers that spray water, and plenty of space to play. It also has convenient public restrooms, a covered pavilion, a playground, and seats around the splash pad for parents.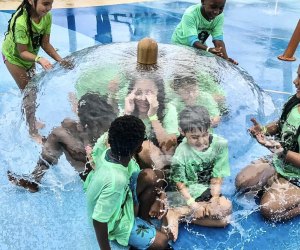 Zube Park splash pad photo courtesy of Childrens Lighthouse, Facebook
It's a bit of a drive into northwest Houston, but we promise it's well worth it. The lovely and shaded park features a splash pad, making it the perfect spot for a day or afternoon out. There is even a steam train that occasionally appears.
Splash Pads Near Houston: West
This splash pad has water shoots, fill-and-dump buckets, pipe tunnels, and tall sprays. There is also covered seating for parents to enjoy while watching the kids play, and a playground nearby for anyone needing a break from the water. 
The park, which is also home to a skate park, has lots of trees and picnic areas as well as sports fields, and an expansive splash pad surrounded by covered tables.
Inner Loop Splash Pads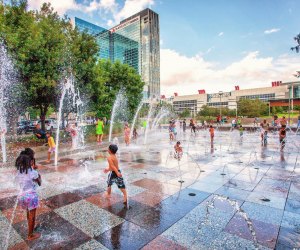 The Gateway Fountain at Discovery Green. Photo by Katya Horner
This lovely Houston park is always worth a visit for its shaded trails and playground, but the splash pad, which is up and running in the summer months, is the cherry on top. Depending on the time of day, it is covered in shade by nearby trees. Please note that it is not fenced in. 
Aside from the splash pad, the park offers numerous amenities kids love. Guests can also take advantage of a dog park, picnic tables, soccer and baseball fields, and a playground, making the splash pad the perfect place to cool off after playing hard. 
The Jaycee Park splash pad is the ideal place for cooling off after taking advantage of all the other park amenities, like a walking trail, basketball and tennis courts, and a playground. The simple pad features timed sprays and colorful butterfly artwork. There are port-o-potties available for guests to use. 
This park offers the traditional simplicity of a splash pad with some extra features that make it fun but not overly flashy. Some of the features kids are sure to love include the bell spray column and ground geyser, while parents love the safe rubber pad surface. 
If you're looking for a splash pad that satisfies the kids and gives you sweeping views of both the park itself and downtown, look no further than Tony Marron Park. Guests have access to public restrooms and drinking fountains, as well as a covered pavilion that's perfect for a picnic lunch. 
At Emancipation Park, three splash pad areas are located on the property. One is located within the pool area of the park, and the other two are outside of the pool area. Each splash pad area contains water features that have water bubbling from the ground as well as directional sprayers.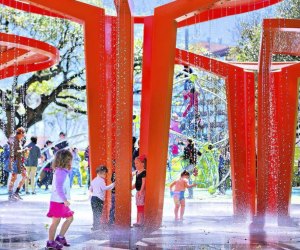 Levy Park photo by Morris Malakoff, courtesy of Upper Kirby Redevelopement Authority
The recently renovated Levy Park now includes a fun splash pad in the center of its enclosed play area. There are public restrooms on site and plenty of shade and tables for picnicking. The playground also has a rock wall and plenty of other climbables.
Jet streams reach up to 14 feet at this Downtown Houston favorite. Infants and toddlers are required to wear swim diapers and water shoes are recommended. Public restrooms are available. 
Closed for construction until further notice.
Get ready for an entire water experience at the water playground at Hermann Park. The park boasts an adjacent sandy beach, palm trees, and more, which makes it a splash-pad paradise. There is free parking in and around Hermann Park as well as paid parking lots in the surrounding areas. 
Closed until further notice.
What better way to cool off after a long day visiting the animals than at the water play park located inside the zoo? Kids can enjoy the traditional streams of water, a 'fill and spill' water tree, fountains, and ample space at this splash pad. Note: Use of splash pad is free with zoo admission. 
Splash Pads Near Houston: Southwest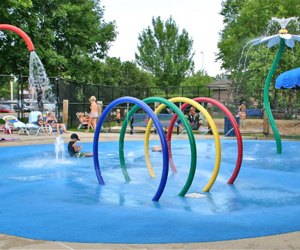 The RiverPark splash pad in Sugar Land. Photo courtesy of City of Sugar Land
There are not just traditional water streams at this playground, but also turtles and lily pads that spurt water up in the air. These features plus bright colors and plenty of space to play make this splash pad a hit with kids and parents alike. 
Catching a Sugar Land Skeeters game? Be sure to pack a swimsuit for the kids. Constellation Field has a splash pad that overlooks the playing field and gives kids a chance to cool off and burn some energy while taking in some minor league baseball. Note: Use of the splash pad is free with purchase of Sugar Land Skeeters ticket.
The water feature at Smart Financial Centre Plaza is back in action this summer. Features that make parents happy include plenty of parking, seating, and restrooms. After 4pm the splash pad turns into a water feature show. 
This well-maintained splash pad boasts colorful pipes, suspended fill-and-dump buckets, and ample space to run and play. There are shaded benches surrounding the pad for parents to watch their little ones, and an adjacent park for the kids to play on before or after their water adventures. There are no restrooms at this splash pad, so plan accordingly. 
This post was originally published in September 2016