We don't have to tell you that during a Houston summer, the heat and humidity come at you at full force. Staying cool during a heat wave with the kids is top priority these days, and while the area has plenty of splash pads and pools, sometimes it's nice to beat the heat while enjoying someone else's air conditioning. Even though we love them, we know it can get expensive at indoor playgrounds and gyms, so we've included an entire section of free indoor fun ideas to help you beat the heat without breaking the bank. And if you don't mind dishing out some dollars for fun indoor experiences, the second half of this list includes our favorite paid entry Houston-area venues where you can beat the heat this summer. 
Find yourself in need of even more ideas? Be sure to check out our guide to free summer fun and full guide of things to do with Houston kids in the summer.
FREE Activities to Stay Cool in Houstong
 
Photo courtesy of the Sam Houston Boat Tour
1. Have an adventure on the water on the Sam Houston Boat Tour, which has outdoor and air-conditioned seating. This free 90-minute tour along the Houston Ship Channel needs an online reservation.
2. Head to Barnes and Noble Storytime for some indoor reading and activities.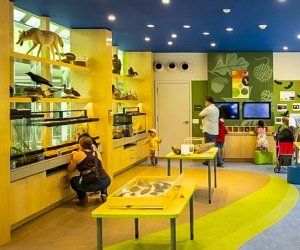 Photo courtesy of the Houston Arboretum & Nature Center
3. Take your nature-loving kids to the Discovery Room at the Houston Arboretum & Nature Center. Follow the Bayou along the floor, find out about life in a wetland, search for woodland creatures, and crawl through the Prairie underground!
4. Visit one of Houston's FREE indoor play spaces at local churches and gyms. 
5. Try a free class for kids at a local craft or tech store. 
6. Visit your local fire station to see the fire trucks up close and meet the firefighters who work hard to keep us safe. Visits must be scheduled in advance online. 
7. Take advantage of free admission to Houston's top museums on certain days. 
8. Browse the shelves or attend story time at one of Houston's unique independent book stores. 
9. Spend the morning at your local Harris County Public Library. The different branches run a variety of events throughout the week, including Toddler Time, Summer Storytime, crafts, and more.
10. Sign your kids up for Kids Bowl Free and they'll enjoy two games of free bowling every day all summer long. 
11. See aquatic life without a fee at Sea Center Texas, just south of Houston in Lake Jackson. 
12. Volunteer with kids at Houston Food Bank's Portwall Warehouse where kids ages 6 and up can help sort and distribute food. 
Paid Venues to Beat the Heat in Houston
1. Popcorn, a good movie, discounted tickets (we're talking $3 or less) and AIR CONDITIONING make seeing a daytime flick with the kids high on our summer fun list. Bonus: there's also plenty of free outdoor evening movies showing around town this summer, too! 
2. Bring a taste of winter to a hot summer day by spending the day ice skating at the Galleria. 
3. Bounce your way through the day at one of these indoor trampoline parks. A couple hours of extremely active indoor play? Sign us up! 
4. Future space explorers will love seeing the exhibits at Space Center Houston. 
5. See if you can make it out in time at an Escape Room. 
Stay cool in Lone Star Flight Museum's air conditioned facility. Photo courtesy of the Lone Star Flight Museum.
6. Take a tour of the 1940 Air Terminal Museum or visit the Lone Star Flight Museum with plane lovers. 
7. Sort out dinner and entertainment in one fell swoop with a Houston restaurant with room to play. 
8. Remember roller skating? It's still a thing! Skate over to the Dairy Ashford Roller Rink and relive your childhood while making new memories with your kids. 
9. Get a healthy dose of historical activities by attending Fort Bend Museum's Summer History Fridays. Activities are geared at children ages 5-12, but all ages are welcome. 
10. Parents of babies and toddlers: beat the heat and have some fun at one of these indoor play spaces geared specifically towards your little ones. 
11. Visit the largest indoor playground in Texas in Webster. 
12. Run off some steam with a rousing game of laser tag.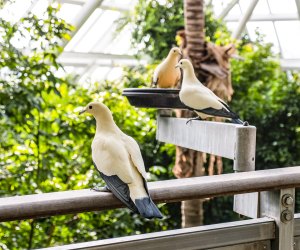 Inside the rainforest pyramid at Moody Gardens. Photo courtesy of the Gardens
13. Check out the indoor rainforest and aquarium pyramids at Moody Gardens. 
14. Need a sweet treat to beat the heat? Stop by one of these 9 delicious popsicle shops to cool off! 
16. Catch a show on stage in the Houston Theater District. 
17. For the train-obsessed kiddos, a trip to the Rosenberg Railroad Museum or Galveston Railroad Museum is a must. 
 
Photo courtesy of Glowzone.
18. Get your glow and game on at Glowzone.
This post originally published in 2017.