The North Shore Trail Rail, a project 50 years in the making, opened to visitors recently, connecting Mt. Sinai to Wading River in a traffic-free environment. The abandoned railroad line now has a new life, providing walkers, runners, and bicyclists with a paved path to recreational fun. 
From stroller-friendly paths and beach walks to hiking trails, Long Island boasts many outdoor adventures for those seeking exercise and vitamin D. And be sure to check out our Guide to Playgrounds and Parks on Long Island for other recreational destinations.  
Subscribe to our free newsletters to get posts like this delivered to your inbox.

Access the North Shore Rail Trail at the trailheads.  Photo courtesy of Traillink
The North Shore Rail Trail is a 10-mile, multi-use recreational path that opened on June 10. The trail runs parallel to Route 25A from Crystal Brook Hollow Road in Mt. Sinai to Wading River Manor Road in Wading River. This Long Island Rail Road corridor once carried train passengers between the two areas.
According to Suffolk County officials, the trail connects local recreational areas, schools, businesses, residential areas, and athletic fields. It also provides a safe space for residents to walk, run, and bike. The project is a green transportation alternative aimed at reducing traffic congestion, improving air quality, and encouraging healthier lifestyles.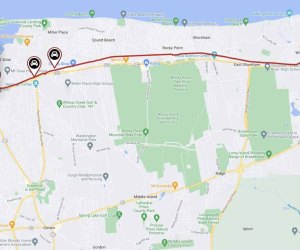 The 10-mile rail trail is a flat, family-friendly path. 
Parking and North Shore Rail Trail Access
There are no designated parking areas because the trail crosses residential streets, but there are commercial areas with parking lots (just seek out signage). Street parking is available at most cross streets, and the Rose Caracappa Center, located at 739 Route 25A in Mt. Sinai, offers direct access to the trail. Access to the trail in Mt. Sinai can be found on Crystal Brook Hollow Road, just off Hallock Avenue. In Wading River, access the trail on Wading River Manor Road at the eastern head, between where it intersects with Charles Street and Benjamin Street. The route runs parallel to 25A, so visitors can jump off at any time and be near a town or store. Note: The North Shore Rail Trail is a carry-in, carry-out path. Visitors are reminded to please take any garbage with them as they exit the trail.