Playland in Rye, New York has been a go-to amusement park for NYC families since 1928. Now operating under new ownership, the picturesque 280-acre park has preserved its rich early 20th century history and charm while serving up modern-day attractions and amenities. From exhilarating new rides great for teens and tweens to fun kiddie rides and new amenities like fancy family-friendly restrooms, it was time to revisit the renovated and restored Westchester gem.
My family headed out to Playland to see what was new and whether it still held the nostalgic fun I remembered. We arrived to sweet picket fences, brightly blooming flowers, lush lawns, and Art Deco buildings really set the scene, and loads of thrilling rides, carnival games, and concession stands made it a day to remember. Below, I'm breaking down some of our favorite attractions, and sharing tips for visiting the park.
Top Playland Amusement Park Rides and Attractions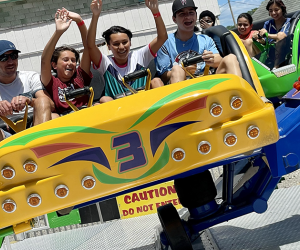 Coasters and Thrill Rides
Proudly featured in the Playland logo, the Dragon Coaster is pretty much the park's crown jewel. Towering at 80-feet high, the 1928 wooden coaster roars at speeds up to 45 mph, making it one of the park's most-loved thrill rides. We raced to the front of the line to snag the first row on the incredibly looooong coaster, and we were not disappointed. As we entered the dungenous dragon mouth tunnel, dip after dip had our bellies bottoming out.
If the description alone is enough to make you queasy, there's a mini version of the Dragon Coaster for less adventurous types. But if the historic coaster sounds like a cake walk, don't miss our favorite stomach-churner of the day: The Dragonator. Straddle your seat as you sit facing outward on this disc ride that rocks you back and forth on a half-moon track—while spinning. This one's not for the faint of heart!
Oh, and don't be fooled by the cutesy Crazy Mouse coaster. We expected a mild ride, but were instead (pleasantly) met with sharp, 180-degree turns and camelback hills.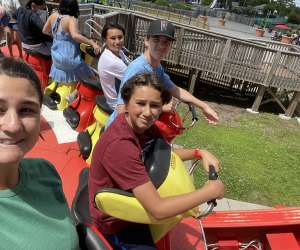 Classic and Nostalgic Rides
Original to the park, The Whip and Derby Racer are oozing with nostalgia and beautiful craftsmanship. At first glance, The Whip looks like a gentle old-timey ride, but as its uniquely-shaped cars travel along an elliptical, they're whipped around bends at warp speed. Meanwhile, Derby Racer takes the traditional Carousel ride up a notch with a steeplechase. We channeled our inner jockeys and clung to our steeds as they "galloped" along a spinning turntable at 15 miles per hour.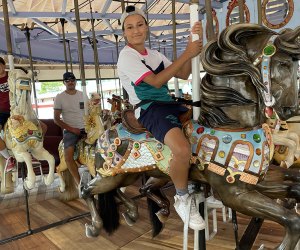 The 107-year-old Grand Carousel is another can't-miss classic, which has been a staple at the park since it first opened. With the merry-go-round's recently restored hand-carved wooden horses with hair tails, you can't help but soak up the historic beauty and detail. The leisurely ride also gave our tummies some time to digest snacks and sandwiches from the Kickin' Chicken.
The Gondola Wheel, Music Express, Bumper Cars, and Go Karts (in one or two-seater options) rounded out the totally nostalgic options we loved at our Playland visit.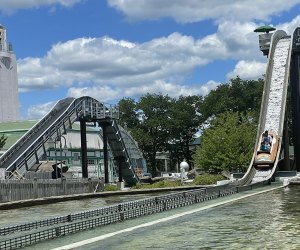 Log Flumes and Water Rides
On a hot summer day like we had, the water rides at Playland are a must! Cool down at Saw Mill Falls, a smaller log flume ride that sprays riders down a bit. Or dare to take the Playland Plunge and drop 50 feet in a log flume to get completely soaked. Onlookers can stand along the footbridge at the base of the ride for a splashing good time.
Kiddie Rides at Kiddyland
Kiddyland is the perfect destination for younger visitors, with height requirements ranging from 36-55", depending on the ride. Flying dragons, antique cars, a kiddy carousel, and boat rides, are among the playful attractions that are sure to be a hit with little park-goers.
Don't miss the Playland Express—a miniature train operated by a real engineer that takes you on a tour of Kiddyland!
Arcade Games
The two-room arcade is buzzing with new games. Load up a card and your credits and tickets are all calculated electronically. Power Roll and Plinko are some hot ticket games, but there's also Skee Ball, basketball, and baseball pitching games for sports fanatics. Redeem your tickets at the prize center afterwards. My kids chose a sugar rush of candy options for the car ride home.
Live Performances and Entertainment
There's loads of live entertainment lined up for summer! Over in Kiddyland, Princess Maren hosts daily story times and Captain Chris & Petey Parrot keep the laughs coming with their quirky comedy act. The Sound Waves are a strolling band that will keep park visitors singing along this season, and performances down on the boardwalk are perfect for the whole family.
Playland Park Amenities
Newly remodeled bathrooms with changing stations are dotted throughout the park.
For a quick snack or treat, you'll find plenty of stands selling pretzels, cotton candy, ice cream, funnel cakes, and more. For take-out dining, Cucina Fresca offers Tex-Mex options, while Kickin' Chicken has spicy and mild sandwiches (including a kicked up mac and cheese chicken option), as well as tenders and fries.
There's also a pizza stand, and a burger food truck that churns out delicious frothy shakes.
Picnic tables with umbrellas are available for visitors, as is a large covered pavilion.
Complimentary refill stations are scattered across the park, so make sure to bring your water bottle.
There are lockers available to rent if you need to store anything during your visit.
At the base of every ride, there's a giant bucket for your belongings, which is watched by an attendant.
The park is completely flat and paved—easy for walkers, strollers, wheelchairs, etc.
Wear sunscreen! But you should be able to find some shady spots throughout the park, where you can get some respite from the sun.
Getting to Playland Amusement Park
If you're planning to take public transit, Metro-North offers a Playland package that includes the trip to the park and an entrance ticket! From the train, connecting buses take you to the Playland entrance, but make sure to check the schedule to be certain your train has a connecting bus.
For those who choose to drive, parking is available with fees varying from $12-20 depending on the day of the week.
Playland Park Tickets
At the door, admission is $34.99 and includes all rides, while spectator passes for those who don't plan to ride are $14.99. For the 48" and under rides, admission is $24.99.
Save up to 34% on your tickets when you purchase online!
Season passes are also available for $129.99.
Children under age 2 are free.
Because the park is owned by the county, Westchester residents get reduced rates with proof of address.
Go cashless by choosing to add money to your pass, which can be used for food, drinks, and the gift shop.
Don't fret if inclement weather strikes. Playland will honor your tickets for another sunny day!
Visit Playland.com to learn more about the historic, full-filled park, and to purchase your tickets!
All photos by author