The South Street Seaport, one of New York City's oldest and most historic neighborhoods, is the perfect place for a family outing. Completely redeveloped in 2017, Pier 17 is its centerpiece and a massive, high-end retail and dining destination with a stunning rooftop space. Besides Pier 17's dining and shopping, there are plenty of other family-friendly things to do in this popular downtown Manhattan neighborhood.
A pair of exceptional play spots, including the Imagination Playground, an under-the-radar maritime museum, boat tours, landmarked buildings, a public pier with gorgeous views, and a slew of FREE programming makes the South Street Seaport a great place to visit this summer with kids—whether you're a tourist or a local.
2. Take a Tour
The museum also offers on-demand FREE virtual-themed walking tours of the neighborhood, like The South Street Seaport Architecture Walking Tour, during which families learn about some of the oldest standing structures in Manhattan, including taverns and warehouses. There's plenty more museum programming both virtual and in-person. Bookmark its calendar for updated offerings.
RELATED: 8 Things to Love About the Museum of the City of New York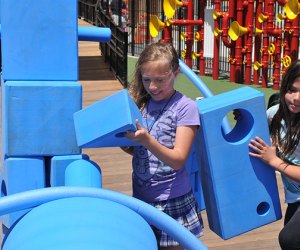 Build your own structures at the Imagination Playground. Photo by Daniel Avila/courtesy of NYC Parks.
3. Use Your Imagination
The Imagination Playground and its seasonal splash park were designed by famed architect David Rockwell. Its signature blue foam building blocks inspire hours of creative play, plus there's shaded seating under umbrellas for grown-ups.
4. Romp at Pearl Street
If the Imagination Playground is too crowded, hit the traditional Pearl Street Playground just a few blocks north.
5. Cycle Along the Greenway
Grab your bicycle and hit the picturesque East River Greenway. If you need to rent a bike, Blazing Saddles' Seaport location has bikes for the whole family, even kids.
RELATED: Best Bike Riding Paths in NYC for Families

Walk the piers and marvel at this neighborhood's rich history. Photo by Robert Bowditch
6. See Some Ships
The historic, 1885 tall ship Wavertree is open for FREE on Fridays, Saturdays, and Sundays. Guests can tour the ship and explore the rest of the aforementioned South Street Seaport Museum. The tugboat W.O. Decker is also offering seasonal excursions. 
7. Celebrate the Water
Save the date to celebrate NYC's long history as a port and water-bound metropolis during the annual City of Water Day in July. Festivities include boat tours on all kinds of vessels, from tall ships to tugboats; plus free rowing, kayaking, paddleboarding, and more.
8. Visit The Greens
The Pier 17 rooftop always has something going on! In winter, dine in one of the venue's Instagrammable cabins, while summertime lets you reserve a mini lawn for alfresco eats.
RELATED: Free Kayaking, Canoeing, and Rowboat Options in New York City

Sail on the 1885 sloop Pioneer. Photo by Robert Bowditch
9. Set Sail
Go on a lovely, leisurely two-hour sightseeing cruise aboard the museum's 1885 sloop Pioneer, which sails seasonally from Memorial Day weekend through early October.
10. Dine at Mister Dips
Grab a bite at the low-key alfresco dining spot Mister Dips, located at Pier 17. Satisfy your craving for burgers and fries, and don't skip the delicious dairy dips. Chow down with a great view of the waterfront–just steps away.
11. Enjoy More Alfresco Eats
Two of our favorite Manhattan restaurants for outdoor dining call the South Street Seaport home: Watermark and Industry Kitchen each serve kid-friendly food, with extra perks like room to run, ping-pong to play, and more.
12. Take a Stroll
Walk over to the two-tier Pier 15, where you'll find plentiful seating and amazing views of the East River and Brooklyn beyond, including the borough's iconic bridge.
RELATED: Lower East Side: A Guide to the Best Kid Play Spots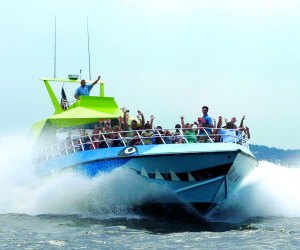 Take a wild ride on the Beast Speedboat. Photo by Smart Destinations via Flickr.
13. Amp up Your Outing
Take a spin on the Beast Speedboat Thrill Ride, a whirlwind, 30-minute New York Harbor tour where the waves crashing around you are so fierce, that you end up all wet! Note: Children must be at least 40 inches to board.
14. Browse the Shelves
Most of the area shopping is swanky and aimed at adults, but you'll find a large children's section at book lover's fave McNally Jackson Books. Before you leave, fuel up with a cold drink or a snack at the ground-level cafe.
15. Go Shopping for Comics
Peruse kid-friendly titles, pop-culture T-shirts, action figures, and other collectibles at the Seaport outpost of Midtown Comics.
RELATED: Hidden NYC: 21 Fun Things to Do in Central Park Besides the Zoo

Browne & Co. Stationers still practices the old-school art of printing with a letterpress. 
16. Step Back in Time
Bowne & Co. Stationers still print the old-fashioned way with a letterpress. It also sells handcrafted cards and other items.
17. Attend an Event
Check the official Seaport calendar to see if there are any special kid events going on. Local parenting group FiDi Families often hosts children's activities like crafts, storytelling, and planting.
18. Take a Pic
Pose in front of the cool white lighthouse at the intersection of Fulton and Pearl Streets. This local landmark is a memorial to the passengers who perished on the Titanic.
RELATED: NYC Kids Neighborhood Guides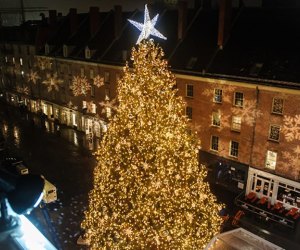 The South Street Seaport's tree lighting offers harbor views. Photo courtesy of South Street Seaport
19. Enjoy the Holidays
Drop by the Seaport in December for its annual holiday happenings. There's always a twinkling Christmas tree and, in years past, Santa sightings and caroling.
20. Hear Some Music
This summer, take your pick from a mix of street performers, buskers, DJs, and staged concerts as part of the annual Seaport Sounds event. The Seaport-wide series includes local favorites and perhaps even a surprise performance by a music star.
A previous version of this post was originally published in May 2010.