Roller fever is taking the city by storm this summer and nowhere is that more evident than at the newly opened DiscOasis in Central Park. Located at the revitalized Wollman Rink, The DiscOasis offers plenty of old-school fun with an interactive, immersive experience that marries roller skating with a funky soundtrack, a garden of disco balls, shimmering lights, and plenty of epic people-watching.
Want to share this roller disco fever with your kids? Read on for our review of visiting The DiscOasis with kids, and learn how to score deeply discounted tickets to this family-friendly event that's lighting up Central Park through Saturday, October 1.
Subscribe to our newsletters to get stories like this delivered directly to your inbox.

The centerpiece of The DiscOasis is a glittering garden of disco balls.
What Is the DiscOasis?
Following its sold-out run in Los Angeles last summer, The DiscOasis bills itself as an "immersive theatrical new roller-disco experience," and it's far more than just another roller rink.
Two different skate sessions are offered daily. Visitors can opt to "Skate in the Sunshine," or "Disco After Dark." No matter when you lace up your skates, expect a groove-worthy soundtrack curated by Grammy award-winning producer Nile Rodgers. Evenings bring live DJs spinning the tunes, plus live musical performances on select nights.
While it's plenty of fun to glide around the rainbow-hued rink with a centerpiece of pulsing lights and shimmering disco balls, there are plenty more things to do at The DiscOasis, including lawn games, a dance floor, funky photo-ops (selfie with a disco cactus anyone?), and plenty of food and drinks to enjoy.
The people-watching all adds to the experience as skaters embrace the '70s theme. My daughter loved the glittery garb, shiny lame, wild wigs, and light-up skates we saw whirring by. A baton-twirling backward skater wowed us as he lapped the rink. The DiscOasis Skaters thrilled the crowd with their fancy footwork and costumes that looked like iridescent butterflies as they circled the rink.
RELATED: Roller Skating Rinks for Kids in NYC and the 'Burbs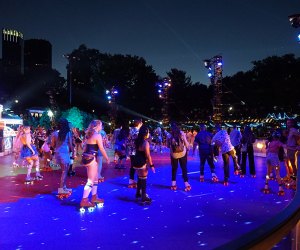 After dark, the roller rink at The DiscOasis really comes to life. 
Tickets to The DiscOasis in Central Park
Sold on this roller skating experience? Book your tickets now! Sessions can be booked for 1- or 3-hours in the daytime and 2- to 2 1/2-hours in the evenings. Daytime tickets start at $17 on weekdays for ages 12 and under; $19 on weekends. Adult daytime tickets are $23 on weekdays; $25 on weekends. Evening tickets start at $29 for kids; $55 for adults. Skate rental adds an extra $10 per person at all times, though you're welcome to bring your own roller skates or roller blades. A VIP option is available for an added fee and grants visitors access to expedited check-in and skate rental, plus a free gift at the session's end. 
If that's too rich for you, New Yorkers can net discounted tickets for each session as part of the Wollman Rink Access Program. Simply present your NYC ID or library card at the box office to score daytime tickets for $12 on weekdays/$17 weekends. Evening tickets are $20 for all ages and run $39 on special event nights.
RELATED: Retro Roller Skating Rink Coming to Rockefeller Center This Spring

It was smiles all around during our visit to The DiscOasis.
Know Before You Go to The DiscOasis with Kids
The minimum age for skating is 3 years old. Everyone ages 3+ must purchase a ticket to enter the rink.
Organizers encourage families to skate during the daytime or early evening sessions, though kids are welcome at all times. We visited during the late-night session, and I felt comfortable having my daughter there until closing time; the one caveat I'd offer is it was a little crowded on the rink for a beginner.
You're welcome to bring your own skates or rent some for $10. Skate sizes range from J7 through adult 15.
Safety equipment, like helmets, wrist pads, and knee pads are not available at the rink. Bring your own if you wish to use them.
We recommend wearing long pants if you can stand it. My daughter took enough spills that a skinned knee put a damper on her night.
If you book your tickets in advance, be sure to fill out your waiver before arrival to expedite your check-in and skate-rental process.
Skate aids are available, though we didn't see any during our visit—and the rink was so crowded, it didn't seem feasible! Daytime is better option for novice skaters.
While your ticket grants you access to the rink for your reserved time slot, you can come early to lace up or enjoy the rest of the amenities before or after your session.
The DiscOasis in Central Park is open Wednesdays-Sundays through Saturday, October 1.
Photo by the author