Farmington River Tubing is located in Satan's Kingdom State Recreation Area in New Hartford. Despite its rather unusual name, during the summer months, this park becomes a popular destination for river-tubing. Satan's Kingdom is the launch spot of Farmington River Tubing – the only official vendor for a tubing journey down the river. 
After ten long years of swimming lessons, my family was finally old enough to plan a trip up to New Hartford and enjoy a day floating on the Farmington River.  This trip is fun–jaw-dropping, heart-racing, adrenaline-pumping fun! This is not your leisurely float down the river. Your family will never forget the trip down the Farmington River. It has enough rocks and rapids to keep everyone entertained.
For more fun on the water, see our list of the 10 Best Ponds and Swimming Lakes for Connecticut Kids. And check out our Connecticut Summer Fun Guide for all our favorite activities.
 
The Farmington River is strikingly beautiful. Photo courtesy of Farmington River Tubing
Know Before You Go – Farmington River Tubing
Farmington River Tubing has many rules and warnings (including waivers) to follow during your trip down the river.   First and foremost – as I mentioned before-  this is certainly a "big kid adventure". Farmington River Tubing recommends that all riders be at least 10 years old.  You should also know that there are no lifeguards along the way, and for a large majority of the trip you are on your own. You must be a strong swimmer to tackle the Farmington River. For most of the trip down the river, you will be floating along at a leisurely pace, but the river does pass through three sets of rapids which move quite fast through rocky waters. There are assistants placed at the second set of rapids (the most challenging part of the ride) who will help tubers who have an emergency. 
You must also be comfortable being separated from your child while you are floating down the river. We found it quite challenging to stay together – my daughter even tackled the rapids on her own (she was fine!)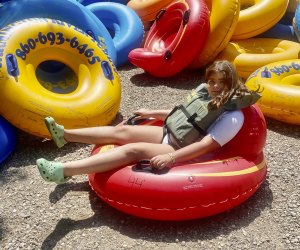 Test drive a few models before you go tubing on the Farmington River.
Now that we've got that out of the way, here are a few tips on how to get the most out of your visit: 
Everyone must wear a PFD–yes even the adults! Be warned: the life vests tend to be a little smelly. You are free to bring your own Coast Guard Approved P.F.D. 

Only bring with you items that you don't mind losing!  It's a good idea to leave anything that is unnecessary in your car. Sunglasses, rings, hats, phones, etc … are all commonly lost items.

Wear a bathing suit or anything you feel comfortable swimming in.  Since you could be floating on the river for hours, it would be a good idea to have a rashguard or sun shirt. Farmington River also recommends wearing water shoes or strap-on sandals. 

No coolers are allowed on the tubes, so make sure you eat a snack and hydrate before you start your trip. 
Restaurants near Farmington River Tubing  
 
Wrap up a day of Farmington River tubing with some delicious local fare.
Beau's Burger Shack – Canton 
This old-school burger shack is a throwback for sure. Their menu features a little bit of everything from hamburgers and hot dogs to whole belly clams and milkshakes. 
Smokeking – New Hartford 
After working up an appetitive on the River, a stop at Smokeking will definitely satisfy even the hangriest of kiddos. This spot features delicious wood smoked BBQ. 
Pizza Pete's – New Hartford 
Pizza is always a family favorite. Pizza Pete's menu features homemade pan pizza and classic Italian Grindes. 
 ​
Farmington River yubing is a great family and group activity. Photo courtesy of Farmington River Tubing
Visiting Farmington River Tubing  
Farmington River Tubing's Facebook Page has the most up-to-date information about hours,  river and weather conditions. Definitely check it before heading out!  
Farmington River Tubing is $25/person and is cash only. This includes a tub, a personal flotation device (PFD), and a shuttle bus ride back to the parking lot at the end of the river. 
​All photo courtesy of the author unless otherwise indicated.