Visiting Mystic Aquarium with kids is fun and entertaining for the whole family. New England is home to world-class aquariums, but Connecticut families don't have to look further than Mystic Aquarium for an engaging and educational activity that's perfect for kids. From the tiniest snails to the beluga whales (and everything in between), the aquarium has something for everyone. And from the ample (and free!) parking to the many nearby dining options, parents will find lots to love about a visit to Mystic Aquarium.
Mystic Aquarium's indoor and outdoor exhibits feature beluga whales, seals, penguins, and more.
Why Mystic Aquarium Is an Awesome Family Destination
Visiting Mystic Aquarium lets kids see some extraordinary animals. When you arrive at the aquarium, you are greeted by the beluga whales. Mystic Aquarium is known for them, and for their extensive research on this elusive breed. We were all immediately enthralled, and it set the tone for a great visit. The tank is enormous, and there are multiple vantage points to from which you can watch these majestic creatures, and their trainers. Little ones will love the low-down portholes for viewing.
Other favorites for our visit were the jellyfish, penguins, and rays. More unexpected were the beautiful skunk cleaner shrimp, which crawl around and nibble on your hands. They kept us hanging around for a long time!
Must See Things at Mystic Aquarium
Pretty much everything is on the must-see list during a visit to Mystic Aquarium, and the facility is just the right size to allow you to really do it all if you want to. (The Jurassic Giants exhibit, which showcases dinos and the modern-day animals descended from them, is currently closed for renovation so we didn't factor that into our visit.) You can see the map here if you want to plan out your day ahead of time.
Each exhibit was engaging and interesting, and had small, easily digestible bits of information about the animals you see, as well as QR codes for more information. Perhaps the biggest standout throughout our visit was the aquarium staff. Every person we encountered was friendly, eager to share their knowledge and answer all our questions (and we had a LOT of questions!).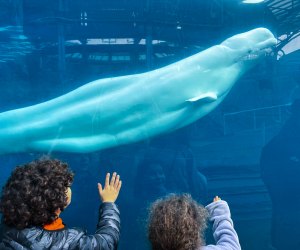 Children get up close to beluga whales at the Mystic Aquarium's enormous tank with large viewing areas..
Beluga Whales
Visitors can't miss the Mystic Aquarium's prominent beluga whale exhibit. We spent a while watching the belugas and their trainers from all different angles and viewpoints. After seeing these graceful creatures swimming, we moved on to the seals and sea lions.
The Mystic Aquarium's seals and sea lions are always a hit with Connecticut families!
Seals & Sea Lions
Mystic Aquarium is the only aquarium in the US to house Steller sea lions, one of the largest species at the facility. They also have harbor seals, northern fur seals, and spotted seals—all in the Pacific Northwest area. They were fun to watch, and the staff who overheard our questions were quick to chime in with answers!
California sea lions also call Mystic Aquarium home, but these are housed in the Foxwoods Marine Theater on the other side of the aquarium. The sea lion show is entertaining and informative, and takes place twice daily on weekdays, and three times on weekends.
African Penguins
Who doesn't love penguins? We couldn't wait to see them. This unique breed is the only kind found in Africa, and their distinctive black and white patterning is kind of like the fingerprint of penguins. We saw them swim, and on land, and learned about how the trainers tell them apart (bracelets with beads signify gender and age). You can watch a livestream of the penguins to tide you over until you can get to Mystic!
Mystic Aquarium has a touch tank, where kids can get a hands-on experience with sea creatures!
Main Gallery- Sharks and Rays and Jellies, Oh My!
Mystic Aquarium's central exhibit area offers many displays and tanks. There are plenty of opportunities to interact with sea creatures. The jellyfish, in their cool blue-hued lighting, were enthralling to watch. The SHARKS touch habitat allows you to safely touch several varieties of sharks and rays. We were also quite taken with the Long Island Sound exhibit, highlighting our local waters. The blue lobster was our favorite! Their touch tank features snails, crabs, and other local sea creatures. Also in this area was a special touch and water play area, perfect for the toddler set.
The Ocean Solutions area offers a chance to learn about harnessing the power of the ocean. Scientists create renewable energy, demonstrating that clean energy can be created from marine debris.
The exhibits at Mystic Aquarium in Connecticut bring kids face to face with amazing sea animals.
Programs and Special Events
Mystic Aquarium hosts events, like a beach clean up and sea turtle survey, every so often. Check the calendar to see what's coming up! They also host overnights at the Aquarium each month, and offer a summer camp program. 
If you really want to get up close and personal with the animals, the aquarium offers encounters, both in-person and virtual. These encounters offer special tours and behind the scenes experiences with the animals and their trainers. Such events are booked individually and must be arranged ahead of time.
Undersea VR is a new feature that allows viewers to experience the deep ocean in an immersive virtual reality experience. There is an additional fee for this.
Eating at Mystic Aquarium
While you can't bring your own food into the facility, you can bring your own food and take advantage of the picnic area on the east end of the parking lot.
Inside Mystic Aquarium, Saltwater Café has you covered with grab-and-go items like sandwiches and salads, and fan favorites like burgers and chicken tenders. You can also get snacks and ice cream if you just need a little something.
Conveniently, the aquarium is located right next to Olde Mistick Village, a family friendly open air village that includes over 40 shops and restaurants. We spent some time wandering around here, and ate a late lunch at Pink Basil, an Asian eatery with food from Thailand, Japan, Vietnam, and Korea. Jealous Monk, a social hall and beer graden with an elevated pub-style menu, and Mango's Wood Fired Pizza were other contenders, both of which had something on the menu for everyone. (Our favorite non-food spots here are Cloak and Wand, a wizarding and witchcraft shop with a "Potion Bar" that features delicious and unique drinks, and Becca Rose, a "witchy wellness store" that sells crystals, books, homemade soaps, and gifts. Munson's Chocolates is sort of food, but we counted it as a souvenir and sustenance for the drive home. Munson's is Connecticut's largest chocolate retailer, founded in 1946, with outposts at various locations in the state.)
Outside of Olde Mistick Village, Mystic Pizza is nearby at 56 Main St., and was on my list of places to hit, but my gang was too hungry after all the aquarium-going to consider anything that wasn't across the street. Mystic Diner is another great option with all your diner favorites, very close by at 235 Greenmanville Ave.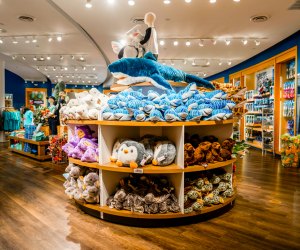 Complete a trip to Mystic Aquarium with a souveneir! Gift Shop photo courtesy of the aquarium.
Know Before you Go:
Here are a few things to know when your planning on visitng Mystic Aquarium with kids:
Parts of the aquarium are outdoors. Come prepared for the weather so you can fully enjoy your visit!
Parking is free and plentiful.
Restrooms are well marked, clean, and located throughout the facility.
The entire facility is stroller and wheelchair accessible. Wheelchairs are available for use free of charge, on a first come first served basis.
The gift shop, located near the entrance, is filled with fun memorabilia from key chains to stuffed animals to sweatshirts.
Someone will snap your photo when you arrive and you can purchase a photo keepsake from your visit.
Allow 2-3 hours to fully explore the aquarium.
The aquarium allows you to leave and come back later the same day- just get your hand stamped on the way out!
Visiting Mystic Aquarium and Aquarium Tickets:
The aquarium is open daily from 10:00 am – 4:00 pm, with the exception of Thanksgiving and Christmas. It is strongly recommended to purchase tickets online, and book in advance. Ticket prices fluctuate slightly based on date and time of entry, ranging from $29-$40 for adults and $20-$30 for children. There are a Kids under 2 are always free. Always check the website to confirm times before you go! 
All in all, this was a terrific outing for our family with kids at various ages and stages. We'll definitely be back!
All photos by Jocelyn Sherman Avidan