Animal Adventures Near West Palm Beach, Florida
Visit with the sea-turtle "patients" at this mostly outdoor rehabilitation hospital that is sure to tug at the heart strings. Loggerhead Marinelife Center in Juno Beach recently underwent a major renovation project that has resulted in even more space for sick and injured sea turtles, as well as other animals like nurse sharks, jellyfish, sea horses, and native fish. Admission is free, though a donation of $10 or more is requested.
View more animals at this outdoor nature center in Jupiter that also has its own wildlife hospital. Walk the trails through woods and wetlands to see creatures like alligators, bald eagles, and otters. Pro tip: Kids love the Wildlife Encounters program offered on Mondays through Saturdays, where they can really get an up-close look at these amazing creatures. It's included with the price of admission.
RELATED: 35 Warm and Sunny Family Vacation Spots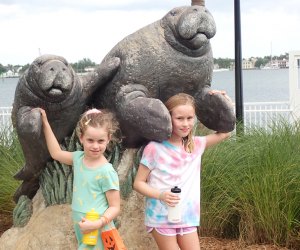 Oh, say can you see a manatee at Manatee Lagoon?
Manatees are adorable sea creatures, and visitors have a chance to view them up close at Manatee Lagoon in Riviera Beach. During the winter months (typically November through March), the sea cows like to gather in the warm waters outside the Florida Power & Light plant. Walk around the lagoon's observation deck to see if you can spot one! The indoor educational center also features exhibits that are all things manatee.
It's no surprise that Lion Country Safari is my kids' absolute favorite place in Palm Beach County. After all, this drive-through safari adventure in Loxahatchee is home to more than 900 animals, including giraffes, lions, and zebras. And it's got a walk-through amusement park! And a water park with a giant splash pad and water slides! Need I say more?
This easily walkable West Palm Beach, Florida zoo boasts its own variety of wildlife like lemurs, monkeys, and macaws. It also has one of the best splash pads in the city, so be sure to pack swimsuits. Pro tip: The lorikeet feeding experience is a major highlight. For $2 a cup, visitors can give nectar to these friendly birds, which may just land on top of your head or shoulder during feeding. It makes for a great photo op!
RELATED: Amelia Island with Kids: 25 Best Things To Do in Fernandina Beach and Amelia Island, Florida

Don't miss the nature center at John D. MacArthur Beach State Park.
More Outdoor Activities Near West Palm Beach, Florida
Outdoor enthusiasts love this state park, which offers kayak and paddleboard rentals, hiking and biking trails, a playground and picnic pavilions, and a free nature center with live animal exhibits. Oh, and there's always the two miles of pristine beach leading out to the Atlantic. (FYI: It costs $5 to park, and parents should be prepared for a long walk from the parking lot to the water.)
Quite possibly the most scenic bike trail in south Florida, the Lake Trail provides more than five miles of flat, traffic-free space for cyclists, joggers, dog walkers, and stroller striders. The trail hugs the shore of Lake Worth, offering up views of passing sailboats and yachts that look straight out of a postcard.
Cruise the beautiful Intracoastal Waterway aboard a PonTiki boat. The family tour leaves from Jupiter on Saturday mornings and select weekdays and heads to a sandbar where cruisers can get off the boat to swim, snorkel, toss a Frisbee around, and enjoy the stunning scenery. FYI: Alcohol is served aboard the ship, and things can get a bit lively when the boat captain plays a catchy pop song, but it's all in good fun!
RELATED: 10 Scenic Train Rides in Florida for Every Family to Enjoy

Calling all mini ninja warriors to play at Shark Wave Park!
Channel your inner American Ninja Warrior at this water sports complex located in Okeeheelee Park. Kids ages 7 and up (as well as their brave parents!) can test their skills on Obstacle Island, a massive floating playground with climbing towers and slides that looks straight out of the TV show Wipeout. Teens and tweens also love the cable park where they can go kneeboarding, wakeboarding, water skiing, and wake skating. Gear is available for rent, and families can pay for on-site lessons.
Enjoy a free, family-friendly concert along the West Palm Beach waterfront every Thursday night. The live entertainment kicks off at 6pm on the Great Lawn in Centennial Square. Food and drink vendors are also on the scene. (Picture children running around barefoot while their parents sip wine and enjoy the music.) Come back to the same location for Screen on the Green, an alfresco family movie experience that takes place every second Friday of the month.
Young sports fans love taking in a baseball game at this clean and comfortable stadium in the Abacoa neighborhood of Jupiter. Both the Miami Marlins and the St. Louis Cardinals have spring training here, plus the stadium is home to four minor-league teams. Bonus: the baseball games are very family-friendly, with bouncy houses, giveaways, and a block-party atmosphere.
RELATED: Mount Dora with Kids: 25 Best Things To Do in Mount Dora, Florida

The Palm Beach area offers amazing snorkeling opportunities.
Greater Palm Beach is famous for its amazing snorkel and scuba-dive sites. My family's favorite spot is the underwater trail at Phil Foster Park. Here, snorkelers can follow an 800-foot-long man-made reef that attracts a diverse collection of sea life, from starfish to manatees. My daughters were delighted to swim next to a sting ray on a recent outing! Other popular snorkeling sites include Red Reef Park in Boca Raton and DuBois Park in Jupiter. Don't forget to check local tide charts before heading out, and remember—parking lots at these parks fill up quickly, so the earlier you can leave, the better!
Take a shuttle boat out to Peanut Island, a 79-acre man-made island that's another favorite spot for snorkeling, camping, and all-around beach frolicking. Boats depart every 20 minutes from Riviera Beach. Tickets cost $18 for adults and $9 for kids 9 and under. The island has a cool historic element to it, too: an underground bunker was once built here for John F. Kennedy in the case of a nuclear attack. (The county is currently restoring the bunker and plans to reopen it to the public soon.)
RELATED: 10 Best Hotel Water Parks in Orlando

Rapids Water Park is the perfect place to play and cool off.
Take your little thrill seekers to Rapids Water Park in Riviera Beach to check out the park's 42 different water slides and attractions. Toddlers and young children will enjoy the wave pool and lengthy lazy river. Big kids can test their nerves on rides like Black Thunder, a giant two-person slide that twists and turns in complete darkness. I have never screamed as loudly in my life as when I rode Black Thunder with my 9-year-old!
Get inspired by nature at this botanical garden, the oldest and largest public garden in Palm Beach County. There are more than 6,000 species of plants to view at this 14-acre outdoor space, including fresh veggies, fruit trees, roses, and cacti. My kids especially love getting lost in the children's maze and walking through the butterfly garden, where we always see zebra long wings, Florida's official state butterfly.

Cuddle with a kangaroo at Bedner's Farm.
Pick your own strawberries, peppers, and cucumbers at this family-owned farm in Boynton Beach. Open September through May, Bedner's features weekend tractor rides and a noteworthy animal park (my daughters were delighted to pet baby kangaroos on a recent visit). The on-site market offers even more exceptional produce and local products, and the farm's fall festival is a must-do for visitors, with perennial favorites like a corn maze and a pumpkin patch.
Step back in time at Yesteryear Village, a living-history park located at the South Florida Fairgrounds. Visitors can check out buildings and artifacts dating back to the 1890s. Ring a bell inside a historic church, or show your kids what a rural schoolhouse from the 1930s was really like. A highlight for our family is going through the Southern Bell telephone exhibit, where kids can try out relics of the recent past like landline phones and a phone booth.
Hands down one of the best parks I've ever visited, Sugar Sand Park in Boca Raton is a local gem. With a giant, all-inclusive playground, an ocean-themed splash pad, a carousel, a family theater, and a free science museum, this park is guaranteed to keep your kids entertained for hours. Plus, it's conveniently located right off of I-95 between West Palm Beach and Miami.
RELATED: 20 Kid-Friendly Hikes Near Orlando and Central Florida 

Indulge your fancy side at the Henry Morrison Flagler Museum.
Interactive Museums Near West Palm Beach, Florida
If your kids take a shine to the highbrow, the Flagler Museum is sure to delight. When it was completed in 1902, newspapers described this 100,000-square-foot, 75-room mansion as "more wonderful than any palace in Europe." Families enjoy seeing the opulent decor and gold-encrusted details, all of it straight out of a Downton Abbey episode. Be sure to pick up a kids' activity guide at the entrance.
Learn about local history at this museum located inside the 1916 downtown courthouse. Find out how West Palm Beach, Florida got all of its iconic palm trees, get familiar with the area's animals and natural environment, and study up on local legends like Trapper Nelson and the mysterious "barefoot mailman." Admission is free, though donations are appreciated.
RELATED: 30 Things To Do in the Florida Keys with Kids (Besides Key West)

Cool off at the Cox Science Center and Aquarium's awesome splash pad. 
A family can easily spend the whole day at this West Palm Beach, Florida museum, which features more than 50 hands-on exhibits for kids of all ages. There's an aquarium, a room full of brain teasers, a planetarium, an outdoor physics forest, a splash pad, and an early-childhood play area for kids 6 and under. The museum also hosts fun seasonal exhibits.
This museum, located inside the Mall at Wellington Green, may be small, but what it lacks in space it makes up for in fossils. That includes Cheryll the Triceratops, south Florida's only real dinosaur skeleton available for viewing. Visitors can also check out bones from giant ground sloths, saber-toothed cats, and mammoths. My daughters love to dig for shark teeth in the museum's fossil pit. The best part is that they get to keep them!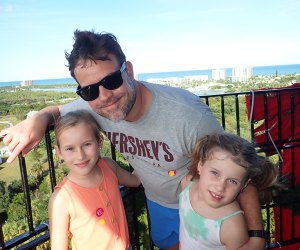 Climb to the top of the Jupiter Inlet Lighthouse. 
Check out the oldest structure in Palm Beach County, the 1860 Jupiter Lighthouse. The property features a museum spotlighting 5,000 years of local history, as well as an old pioneer house that was home to a family in the 1890s. Of course, the biggest draw is the lighthouse itself, and agile visitors can climb the 105 steps inside. The stunning views at the top are worth the strenuous price. FYI: Kids must be 48 inches tall to do the climb.
Bring young art lovers to the Norton Museum in downtown West Palm Beach, Florida, where they can take in more than 8,000 works of art and a sculpture garden. A highlight for kids is the family room, which features art books, a giant magnet wall, and colored pencils and paper for those that feel inspired by what they see. The museum has an excellent restaurant that's open every day for lunch (and dinner on Fridays).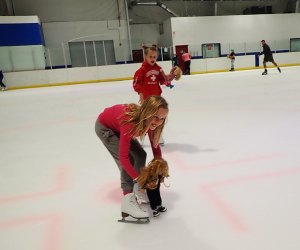 Even American Girl dolls can ice skate at Palm Beach Skate Zone!
More Things To Do Near West Palm Beach, Florida with Kids
25. Ice Skating
Who knew that sunny Palm Beach was home to two excellent ice skating rinks? Take the kids for a spin around the ice at Palm Beach Skate Zone in Lake Worth or Palm Beach Ice Works in West Palm Beach, Florida. Both facilities offer lessons for skaters of all abilities, as well as public sessions. My daughters love the themed events on Saturdays at Palm Beach Skate Zone. Most recently, they brought their dolls for an American Girl skating party, complete with hot cocoa for all guests!
26. Bouncing
When the weather takes a turn and your kids have energy to burn, you can always head to one of Palm Beach's trampoline parks. Urban Air Adventure Park in Wellington features a high-flying Sky Rider, a ropes course, and climbing walls among its attractions. Meanwhile, at Launch West Palm Beach, kids can hit the dodgeball court, joust their friends in a battle pit full of foam blocks, and free-fall from 10 feet in the air onto a giant airbag. My kids also love to flex their acrobatic skills in the aerial silks at DEFY Palm Springs. I love that DEFY is open early every day at 9am.
27. Mini Golf
Palm Beach may be known for its premier golf courses, but with kids, mini golf is probably more your speed. Practice your short game at Lighthouse Cove Adventure Golf in Jupiter, which features two 18-hole courses, an ice cream shop and burger shack, and a children's playground. Adventure Mini Golf in Lake Worth also has two 18-hole courses set amongst water features, fountains, and rolling hills.

What's Cooking Kids has hands-on classes for your little chef.
28. Crafting and Cooking
When those creative juices start flowing, take the kids to paint their own pottery at Craft Haus in Palm Beach Gardens. Teens may also want to try sister studio Clay Haus, where they themselves can get behind the pottery wheel. Got a little one who's into the culinary arts? What's Cooking Kids has hands-on classes for junior chefs. My daughters recently made Halloween spider pies, and they were a huge hit.
29. Bowling
Get some family competition going at one of Palm Beach's local bowling alleys. Sleekly designed Bowlero in Jupiter is home to 60 lanes, as well as a significant arcade and billiards area. For more of a classic vibe, head to Greenacres Bowl, which also has 60 bowling lanes and an in-house restaurant.
When all else fails to entertain, there is always slime. Take your family for the ultimate oozy experience at The Slime Factory in Wellington, where kids can make a gooey creation to take home complete with glitter, scents, beads, and special charms. Plus, visitors get time to play in the slime pool, a large tub of extra colorful goo.
RELATED: Best Winter Vacation Ideas for Families: Affordable Vacation Spots for Kids of All Ages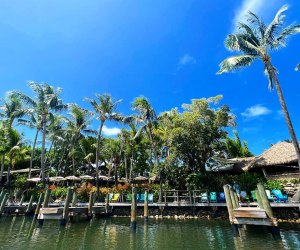 Soak up the Tiki vibes at Guanabanas Island Restaurant and Bar. Photo courtesy of the restaurant
West Palm Beach, Florida Restaurants Kids Love
It's all about atmosphere at this Tiki bar-themed restaurant right on the Intracoastal Waterway in Jupiter. Parents like coming here for the cocktails and seafood; kids like the laid-back vibe and regular live music.
West Palm Beach, Florida has an abundance of great Italian restaurants. One of our favorites is Elisabetta's, with locations downtown and in Delray Beach. Fresh salads, homemade pastas, and plenty of meat choices—what's not to love? Plus, the kids' menu is like a full-on activity book, which always pleases my daughters.
While we are on the subject of good Italian food, my family loves dinner at Carmine's in Palm Beach Gardens. This white-linen eatery has a large menu and wine list, making it a great go-to when dining with grandparents. And though there's no official kids' menu, servers have always been happy to halve portions for us. Pro tip: Carmine's is adjacent to an excellent gourmet grocery, so you can do some shopping before or after your meal.
After a day at the beach, there's nothing better than grabbing some casual Mexican food at this local gem in Jupiter. It has great tacos, burritos, and quesadillas. Plus, no one will look at you funny if you show up in board shorts.
If your family is into Middle Eastern food, Leila in downtown West Palm Beach, Florida serves up delicious hummus, falafel, tabbouleh, and meat kebabs. Eat outside on the restaurant's spirited patio, where belly dancers often perform on weekend nights.
Channel your inner English royal at this Juno Beach tea house that offers traditional afternoon tea service as well as lunch items, homemade desserts, and a variety of both caffeinated and non-caffeinated beverages. The decor is elegant and quaint. My daughters love to get dressed up for the experience.
West Palm Beach, Florida Hotels and Resorts for Families
This oceanfront hotel with gorgeous views of the coast has a family-friendly pool with a waterslide, a kids' club with daily activities, and an on-site spa. Mommy Poppins recently crowned it one of the 10 best Florida beach vacation destinations for families.
Another Mommy Poppins favorite, the Delray Sands Resort in Highland Beach has 115 guest rooms and suites that will put you steps from the sand and waves. Visitors love the resort's bright and airy decor and its two oceanside pools.
Located within the Harbourside Place shopping center in Jupiter, this luxury hotel benefits from a super convenient location. Take the kids in a stroller for dinner at one of the many nearby restaurants. A walk along the Intracoastal Waterway after your meal adds the perfect touch. Pro tip: If you grow tired of playing in the hotel pool, there is a great splash pad at Harbourside Place.
If you are feeling the urge to splurge, the Eau Palm Beach has got it all. Exclusive beachfront property, complimentary bike rental, and four on-site dining options (plus an ice cream shop) are just a few of the amenities offered. The hotel kids' club features a light-up wall, a playground, and a movie theater.
Unless noted, photos by the author