Mother's Day is the perfect occasion for toddlers to display their adoration for their mothers with sweet surprises. Preschool Mother's Day crafts are excellent for younger children since it allows them to create personalized cards or simple DIY concepts to convey their love and regards to their mother. It also presents a chance for the family to bond while helping the preschooler create the Mother's Day craft.
Browse through this post to explore some easy Mother's Day crafts ideas for toddlers to showcase their love and gratitude for their amazing mothers.
25+ Easy Mother's Day Crafts Ideas For Preschoolers And Toddlers
1. Painting With Flowers
You will need:
A sturdy drawing paper
Paper plates
Carnations or any other flower
Paints
How to:
Pour paint of a color each on a paper plate.
Cut the flower such that a little part of the stem sticks as a handle.
Dip the flower in paint and begin coloring on the paper.
You may use different combinations of colors and patterns.
Demonstrate this to your toddler once, and watch them create their amazing piece of art.
2. Flower Craft With A Photo
You will need:
Yellow and green card stocks
Yellow and gold paints
Paintbrush
Glitter and glue
A small photo of your toddler
Green card sticks
How to:
Cut the yellow card stocks into circles.
Paint with yellow and gold paint and glitters.
You may also use a salad spinner to give the card a unique pattern.
Let the card dry. Later you may cut it in the shape of a flower, leaving a small circle in the middle.
Add a photograph in the middle. Cut out and glue the green card sticks to make the stem and leaf of the flower.
3. Mother's Day Coloring Page
You will need:
A Mother's Day coloring page
Crayons or paints
How to:
Have a Mother's Day coloring page printed for your toddler.
Let them grab their crayons or paints to color the page.
You may use these as a part of greeting cards or frame them to present to others.
You can download free printable Mother's Day coloring pages here.
4. Paper Plate Craft
You will need:
Paints
Paper plate
Clothespin
Contact paper
Pom-pom
Glue
Pencil
Craft knife or scissors
Black marker
How to:
Draw a heart shape on contact paper using a pencil and cut it to stick in the middle of the paper plate.
Begin painting the paper plate with any three colors, preferably brighter ones.
Use a pom-pom attached to a clothespin (used as a handle) to spread the paint over the paper plate.
Let it dry, and have your toddler write the word "MOM" on the bottom.
Highlight the heart and the word "MOM" with a black marker.
5. Paper Flower Making
You will need:
Different color papers
Scissors
Glue
Pencil
Pom-poms, beads, or photos
How to:
Pick the color papers and cut them into a heart shape. You require four hearts for each flower.
Using a scissor, cut the papers into heart shapes.
Fold the heart exactly in the middle to give a 3D look to the flowers.
Open the folds and stick them together to create a beautiful flower
You may add a button, pom-pom, or a white bead to the center of the flower.
To make it extra special, have your toddler write a sweet message or add a photo in the middle of these flowers.
6. Salt Dough Ornaments
You will need:
Salt dough
Cookie-cutter
Glitters
Ribbons
Multicolor beads
Glue
Paints
How to:
Begin by rolling a thick salt dough.
Invite your toddler to cut the dough into little flowers or stars with a cooker cutter.
Use a paintbrush to make a small hole in the center of the shape.
Bake the dough until it is just dry and hard.
Let it cool. Then, ask your toddler to paint the flowers or stars with any color of their choice.
You may paste the glitters to give a stunning pattern.
Finish the necklace by tying the ribbon through the hole and adding the beads near the end.
You may also make other ornaments such as bracelets or earrings.
7. Pom-Pom Flower Craft
You will need:
Pom-poms
Glue
Cardboard
Popsicle sticks
Scissors
Paint
How to:
Take a cardboard and draw a flower template on it.
Cut out the flower and its inner circle too.
Ask your toddler to paste the pom-poms all over the flower template.
You may use single or multicolored pom-poms to give a unique look to the flower.
Take a popsicle stick, paint it green, and stick green pom-poms for leaves for the flower.
Glue the stick to the back of the flower to complete the craft.
You may add a photo of your little one in the center to make it a lovely Mother's Day gift.
8. Watercolor Clutch
You will need:
A plain clutch or small bag (your choice)
Sharpies
Pencil
Watercolors
Ruler
Paints
How to:
Before you begin painting the plain clutch, you may want to try using paints and sharpies on paper to show your little one.
Start by painting your clutch with a color of your choice. Allow it to dry.
Mark any pattern with a pencil and then use a sharpie to create finer lines.
You may also ask your toddler to make their own patterns on the clutch. It will look colorful and unique.
9. Fingerprint Coffee Mug
You will need:
A plain mug
Acrylic paint
Small paintbrush
How to:
Ask your toddler to dip their thumb fingers into the paint and stamp their fingerprints twice on a plain coffee mug, away from the top.
Repeat the process to create butterfly wings.
Use a small paintbrush to create the antennae and put the mug to dry.
You may make a big butterfly or multiple small ones on the mug.
You may also make hearts or other patterns with your toddler's fingerprint on the mug.
Furthermore, you may add candies or a gift card to fill the mug before the toddler presents it to mom.
10. Handprint Flowers
You will need:
Glue
Scissors
Paints
Paintbrush
Large drawing papers
An old plastic plate
Popsicle sticks
How to:
Pour the paint into the plastic plate and let the toddler smear their hands.
Ask them to make a hand impression on a sheet of drawing paper.
Rinse the hand and the plastic plate. Add paint of another color and repeat the process of creating hand impressions of different colors on various sheets of paper.
Cut the hand impression neatly. Once done, trim its sides to resemble petals.
Stick the cut-out to a popsicle stick and let it dry. The handprint flowers are ready.
11. Egg Carton Craft
You will need:
Egg cartons
Acrylic paint
Pom-pom
Glue
Paintbrush
Scissors
Paper straw
How to:
Cut out the egg carton containers to give them a round shape, representing flower petals.
Have your little one paint the cartons with the color of their choice.
Allow it to dry, and attach the stem by gluing a paper straw at the back of the round cut-out.
Stick a pom-pom to match the color of the carton in the center.
12. Flower Footprint
You will need:
Paints
Drawing paper sheets
Paintbrush
How to:
Pick a plain drawing paper sheet and begin the craft by taking the footprint of the toddler.
Take a paintbrush and draw the stem and leaves such that the footprint becomes the flower.
Let it dry. The mother can store this sheet of paper in a memory box containing all the toys and clothes that her child used when he/she was young.
13. Mother's Day Chocolate Bar Wrapper
You will need:
A printable candy bar wrapper
Glue
Scissors
Pencil
Clear tape
How to:
Print a candy bar wrapper with some fun questionnaires.
Cut the ends with scissors.
Ask your toddler to fill out the questionnaire, or you may also have them write personalized messages on top of it.
You could fold the center of the wrapper using a ruler and press the folds properly.
Secure the ends of the wrapper with clear tape to make a pocket to fill in their mother's favorite candy bars.
14. Pop-Out Heart Card
You will need:
A blank card
Color papers
Pencil
Scissor
Glue
How to:
You may print out a heart template or cut hearts on a colored paper of your choice.
Fold the paper hearts in half. Stick them to the blank card from the backside of the fold.
You may add your toddler's photo inside the heart or ask them to pen down a message dedicated to their mom.
15. Celery Stamping
You will need:
Celery
White paper
Glue
Pipe cleaners (green)
Pink or red paints
Pink or red ribbons
How to:
Cut the celery head's bottoms straight.
Have your toddler dip the celery into the paint such that it is immersed fully.
Help them stamp roses one beside the other and press properly to leave a print.
Let it dry. Meanwhile, trim the green pipe cleaner to match the size of your paper and stick the pipe cleaner at the bottom of the flowers to create a stem.
You may make a bow with ribbon and glue it at the top of the flower stems to make it appear like a bouquet.
16. Button Flower Greeting
You will need:
Buttons
Cardstock papers
Glue
Scissors
Green foam sheet
How to:
Take a cardstock paper and fold it into two halves.
Glue the green foam sheets such that they appear like the stems of flowers.
You may also cut small, fine lines to paste in the bottom to give a grass-like appearance.
Glue the larger buttons above the stem, followed by pasting the smaller ones in a circular way.
You may stick green buttons adjacent to the stem as leaves.
17. Cupcake Liner Craft
You will need:
Cupcake liners
Color pens
Card or plain paper
Scissors
Glue
How to:
Pick up the card or plain paper and draw the stems and leaves of the flowers.
Take the cupcake liners and cut them to make flower petals of any shape or pattern you feel is easy.
Smoothen the petals and begin sticking them to the stems.
Have your toddler glue some colorful glitters, pom-poms, or buttons in the center of the flower to decorate them further.
18. Handprint Butterfly Craft
You will need:
Pencil
Paints
Large drawing papers
An old plastic plate
How to:
Trace a large outline of a butterfly on the drawing paper.
Pour color into the large plastic plate. Let the toddler dip their hand in it and create a handprint within the outline of the butterfly.
Repeat the process with other colors until the butterfly outline is painted within with handprints of different colors.
This can be framed, and the toddler may gift it to his/her mom as a Mother's Day present.
19. Fingerprint Heart Tree Craft
You will need:
White drawing paper
Pencil
Paints
How to:
Fold the drawing paper in half. Draw a half-heart shape on one side of the paper.
Ask the toddler to dip their thumb or a finger in paint and make fingerprints within the heart's outline.
Once fingerprints are made, fold the paper so that the paint and fingerprints also smudge to the other half of the paper.
Draw the stem and trunk of a tree with a pencil to complete the craft.
20. Footprint Craft
You will need:
Paint
Glue
Plain paper
Paintbrush
Golden Ribbon
How to:
You may make a footprint craft by taking the child's footprints on a plain sheet of paper.
Otherwise, you may stamp their footprints to make a flower bouquet with different colors.
Take a small brush to paint the stems green.
Knot and stick a golden ribbon at the stem to make a bouquet.
21. Mother's Day Vase
You will need:
Paints
Colored cardstocks
Popsicle sticks
Scissors
Doily
How to:
You may start with painting the doily or even leave it plain white.
Take the colored cards and cut out flower shapes.
Color the popsicle sticks green to make stems and stick the flowers to these sticks.
You may add a pom-pom in the middle of the flower to finish the look.
Fold the doily in the shape of a vase (fold two times to form a triangle).
Pop your flowers into the doily to create a beautiful flower vase.
22. Handprint Paper Vase With Messages
You will need:
Colored craft papers
Background plain paper
Glue
Pencil
Green paper straws
Marker
How to:
Take your toddler's handprints on plain paper by dipping their hand in paint of your preferred color.
Allow them to dry. Meanwhile, make a vase template on brown paper or take a printed template. Cut it and write a special Mother's Day note on the vase.
After the handprints dry, cut and stick the green paper straws to the handprints to complete a handprint flower.
Place the flowers in the vase, and you may ask your toddler to write special messages in the handprints.
23. Keepsake Mother's Day Note
You will need:
Color pens
Glue
Glitters
Scissors
Cardstocks
How to:
Pick the cardstocks and cut them into heart or flower shapes.
You may ask your little one to write sweet messages and things they love about their mommy on these cards.
Stick some small cute hearts or add some glitter to the notes to make them attractive.
You may fold and put these notes in a glass jar to store them.
24. Heart-Thumb Printed Platter
You will need:
A white serving platter
Sharpie
Glass paint (Red color)
Damp towels
How to:
Plan the design and text to be painted on the platter.
Place the paint on foil paper and dip your little one's thumb to place them equidistant on the platter.
Make two prints to give a heart shape. You may use a wet towel if you mess up anywhere.
Use the sharpie or red marker to write names or text of your choice. Let the platter dry, and you may use it as a cute showpiece.
25. Bottle Cap Flower Craft
You will need:
Bottle caps of different colors
Glue
White card paper
Pencil
How to:
Trace the outline of flowers on the sheet of paper with a pencil.
Apply glue to the top of each bottle cap and stick within the outline of the flower.
You may play around with the colors and shapes of the flower, depending on the toddler's preference.
Once all the bottle caps have been stuck, leave the sheet to dry before storing it as a cherished Mother's Day craft gift from your little one.
26. DIY Bookmarks
You will need:
White construction paper
Scissors
Colored markers
Ribbon
Glue
Colored cardboard
Additional decorative items such as beads and stickers
How to:
Trim the white paper to a rectangle shape.
Have your toddler write simple text such as "Love you mom" or "MOM" with a marker in the middle.
Let them decorate the rest of the paper with beads, stickers, or polka dots.
Help your child stick the paper onto the colored cardboard and cut out the edges to create a beautiful border for the bookmark.
Use a hole punch to create a hole on the top of the bookmark and tie a ribbon along the hole to finish the bookmark.
Toddlers are intrigued by various arts and crafts involving paints and colorful papers. So, why not utilize their interest and let them explore their creative sides by making these fun preschool Mother's Day crafts with them. Besides keeping your child engaged, these crafts help develop their imagination and fine motor skills. Furthermore, Mother's Day is a perfect time for toddlers to express their love to their dearest moms, and every mother would treasure the adorable and fabulous gifts their little ones make.
Key Pointers
Guide your toddler and have them surprise their moms with these easy-to-make Mother's Day crafts.
Toddlers might love to create crafts involving handprinting, fingerprinting, and preparing simple paper flowers.
Boost their coordination and creative skills with activities such as painting and DIY cardmaking.
Incorporate their photographs and special messages in the crafts and cards to make them memorable for the mothers.
The following two tabs change content below.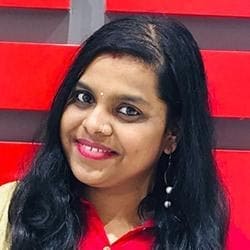 Vidya did her post-graduation in Biotechnology from Osmania University, Hyderabad. Her interest in scientific research and writing made her pursue a career in writing, in which she now has over four years of experience. She has done certified biotechnology-related training programs under renowned organizations such as Centre For Cellular & Molecular Biology and Department of Biotechnology. Vidya writes health-based articles…
more