Target has always been a one-stop shop for all things college and here is where you can start: the Target College Shop has everything your teen will need.
Below are some of the most-popular Target dorm essentials purchased by Grown and Flown parents. Remember, before you shop, have your teen look for anything that is prohibited by their college and check out these 50 questions to answer before you start to buy things.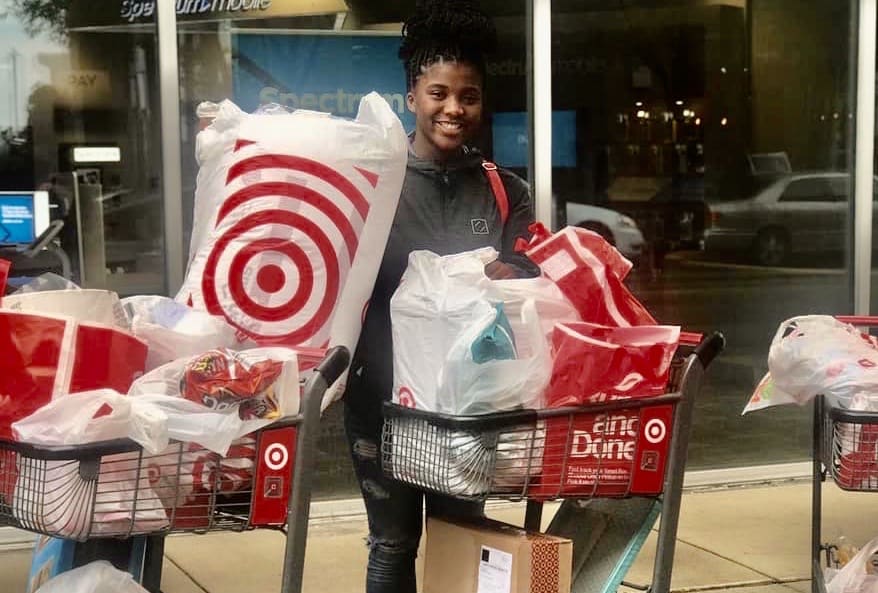 Note: We are a reader-supported site and receive compensation for purchases made through some of the links in this post.
Back to school shopping at Target
Popular college dorm items
Most students will have access to a microwave or mini-fridge so they can do a tiny bit of "cooking," which means reheating the previous night's pizza or pouring milk on a bowl of cereal. These dishes are lightweight, unbreakable, dishwasher safe and are available in eight pretty colors.
These lightweight, rolling carts offer super-practical storage in a dorm room or bathroom. Finding items that can travel from dorm to apartment is important to keep in mind as your student will likely live in both during their college years. This is one of those great finds.
These antimicrobial towels come in many colors and have matching bath towels, hand towels, and wash cloths.
Walking from communal showers back to a dorm room means juggling a shower caddy and clothes while trying to keep a towel from falling off. This absorbent terry-cloth body wrap stays closed with velcro.
A mesh shower caddy is lightweight and more flexible to use than a hard plastic caddy.
The first weeks of school are typically roasting hot, even at colleges in colder climates. This Woozoo fan is small and powerful for dorms or and helps with air circulation.
Having new, lightweight hangers to use in a dorm or bedroom closet is an orderly way to move into closet space. These are available in mint, white, black grey.
Storage Solutions
Target has a wide selection of storage bins, drawers, ottomans, and much more. Here's a great place to start to look at storage cubes and cubbies.
Anywhere a student can add storage to their room is a plus and this foldable ottoman also offers a place to sit and a way to climb up into a lofted bed.
Under-bed storage is the secret to helping your son or daughter optimize their space in a dorm room. If possible, try to find the actual dimensions of the bed and how high it is lofted in the specific dorm they are assigned to. Pick and choose the types of bins that will best fit in this valuable real estate.
There are also many types of storage drawers and utility carts at Target.
A popular option for storage under-the-bed, if the bed is lofted high enough, or in a closet, is this set of lightweight drawers. Depending on how high the bed is, this could also serve as a nightstand.
Using a backpack laundry bag is a practical solution for many students – the bag takes up less floor space than a hamper and it can be a convenient way to tote laundry and detergent from the dorm room to the laundry room.
College students are not known for being neat and they accumulate a TON of trash.
This is a 7 gallon trashcan with a step-on pedal and lid. Make sure to pack trash can liners and remind your teen why they need to use them.
Twin XL Bedding
Comforters are one of the main ways that students express their styles. My daughter OBSESSED over hers and my son, well…was perfectly happy with basic blue. Target has a wide selection of Twin XL Comforters and coordinating XL sheets.
If your teen prefers to sleep with a fitted sheet and comforter, make sure the comforter is machine washable!
This comforter caught our eye. Well-priced and durable, it is available in seven color combinations including this pretty light blue and navy. We also liked the one in pink and blush.
This is the very best way to make a hard-as-rock dorm bed more comfortable. There are egg crates (which tend to less expensive), memory foam and much more expensive high tech toppers to choose from.
If your teen can feel the differences in the options in a Target, you can both make the decision pretty quickly. Otherwise, choose one that works with your budget. They will all help your teen have a more comfortable place to sleep.
A clean new pillow will only stay that way with a pillow cover. AllerEase makes one that protects against household allergens and is a bedbug barrier.
Don't forget a mattress encasement, also by Allerease, that has protection against bedbugs, household allergens, and is waterproof.
A weighted blanket can apply gentle, even pressure across your teen's body and might be a type of self-care for them in their new life as a college student. Available in two colors and 12 pound weight.
Being able to prop up comfortably in bed is so important if your student plans to study or read there and these bed rest pillows are perfect for that. They are available in five colors.
Throw blankets are perfect for the end of a dorm bed. They are also great for when it gets extra cold in the room.
If your student's dorm room is suite-style or has a bathroom attached to it, this bath mat is a great addition to the bathroom. It is made with suction cups at the bottom to avoid slipping.
Target has so many trendy ideas that are easy and inexpensive ways to decorate an entire wall.
A vanity mirror is essential for doing makeup and getting ready. The mirrors in the dorms are not great quality and it is sometimes hard to do makeup if there are a lot of people trying to get ready at once.
Full-length mirrors are definitely necessary to ensure you can see your entire outfit before leaving for the day. A lot of the dorm bathrooms only have a mirror for the top half of your body.
This is such a cute and trendy way to decorate the walls in the dorms. You can hang up all of your favorite photos to these string lights.
This compact lamp has a convenient organizer for pens, pencils, or other small items. Also, it has a flexible neck and can be moved around easily.
Having door hooks is perfect for hanging up towels or a jacket.
Rugs make a dorm room feel so much more like home! Available in nine great colors.
If your teen is a coffee drinker, consider getting a Keurig Mini – at 5″ wide, it will fit in a small space and will be a little bit of luxury when they want a cup of coffee without having to leave their room. Comes in multiple colors.
Having a microwave in the dorm is super convenient for easy cooking and reheating leftovers!
Target has many ways to shop
You can choose how you want to shop at Target including Drive Up, Order Pickup, Free 2-Day Shipping, and same-day delivery with Shipt.
You Might Also Want to Read:
How to Shop for College: 25 Bestselling Dorm Essentials – just in case you want even MORE ideas about what your teen might enjoy using at the dorm.
Moving Into the Dorm: 12 Things That Will Save Your Life – here are the very best ideas about how to manage move in day, like a pro!