Beach clubs offer a surefire way to add more relaxation to a summer staycation with kids. These local beach clubs in New York City, Long Island, and New Jersey all offer top-notch amenities for summer fun, like massive swimming pools, organized kids' activities including sports and arts and crafts—sometimes even a day camp—plus spas, restaurants, lounges and, of course, access to pristine private beaches, so you have plenty of space to spread out.
So, much as we love the idea of jetting off to an all-inclusive resort for a couple of weeks, these local beach clubs provide a closer-to-home alternative escape that lasts all summer long. These top picks for beach clubs near the New York City metro area will jumpstart your summer plans. Find more wet-and-wild seasonal fun in our Family-Friendly Guide to Beaches and Lakes.
Subscribe to our newsletters to get stories like this delivered directly to your inbox.
These local beach clubs offer memberships, which generally last from Memorial Day to Labor Day, giving families access to all their facilities. Most offer rental accommodations like bath cabins or cabanas for an added fee.
Beach Clubs in New York City for Families
This club boasts the only private beach in Brooklyn, plus an Olympic-sized pool, a restaurant, and steam baths. Membership includes lockers, pool access, and valet parking. For cabanas, there are several pricing options for families. There are some great kids' activities to partake in, too.
RELATED: Top Beaches near NYC for Toddlers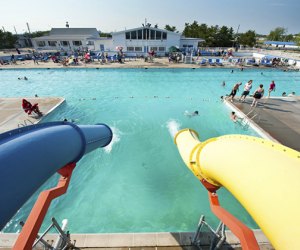 The slides at Breezy Point Surf Club are just one of its perks for families. Photo courtesy of Breezy Point Surf Club
Yes, it's technically within city limits, but it doesn't feel like it. (Plus, it's nowhere near a subway.) This NYC beach club offers many family activities, a free kids' day camp, access to tennis courts, and a gym with exercise classes. There's also a kiddie pool with a pirate ship and an Olympic-size swimming pool with water slides, a cafeteria, a lounge, and a bar. Membership is available for individuals or families, and the club offers optional rental facilities, including cabanas, cabanettes, or bath cabins. Breezy Point also has a very reasonable day rate.
RELATED: 25 Top Sprinkler Parks and Splash Pads in NYC for Kids


The Silver Gull Beach Club has two pools, tennis courts, a camp, and more! Photo courtesy of Silver Gull Beach Club
Like the nearby Breezy Point Surf Club, this resort is technically in Queens, but you'll definitely feel like you're on vacation. This club is where some scenes in the '80s teen classic Flamingo Kid were filmed, and it's got lots of cabanas, cabin boys, and activities (but no Matt Dillon—sorry…). Attractions include nine acres of oceanfront, swimming pools with water slides, free parking, and a day camp. There is no family membership package, so you'll pay individually. Families can share accommodations with friends, but everyone must be a member.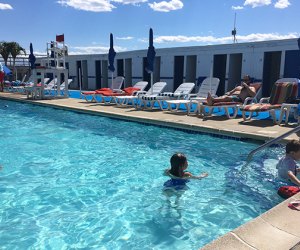 Hit the pool at the New York Beach Club, or try out one of the many kids' activities. Photo courtesy of New York Beach Club
Family-Friendly Beach Clubs on Long Island
With more than 85,000 square feet of private, sandy, beachfront property, there's plenty of entertainment here for all ages. Kids' activities include mommy-and-me classes, an arts and crafts studio, and sports on the courts, in the sand, and in the surf. Membership fees vary. Be aware, however, that those prices don't include parking.
The same family who opened this resort in 1944 still runs it today. Attractions include a beach, an Olympic-size pool, tennis courts, a steam room, and a day spa, but there are also notable family offerings like mommy-and-me classes and a summer day camp for children ages 2-7. Cabana and bath cabin rentals are available—call for specific pricing. The stunning Art Deco-style grounds have been featured in many TV shows, movies, and magazines.
Opened in 1938, this club boasts more than 100 acres of oceanfront property, an Olympic-size pool, and tons of activities for all ages, such as sports, arts and crafts, science workshops, and scavenger hunts. There's also a day camp for children ages 3-14. Membership includes one or two parking passes, additional parking passes are available for purchase. All members are required to rent an accommodation.
RELATED: Best Water Theme Parks Near NYC for Families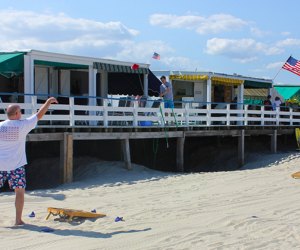 Step outside your cabana at Sun & Surf Beach Club for beach games. Photo courtesy of Sun & Surf Beach Club
Located right next to Silver Point (they share an address), this club opened exactly a decade later and offers many of the same attractions, including a beach, a pool, and lots of activities like sports, art classes, and sing-a-longs. The club features a jam-packed social calendar, including theme nights, dances, luaus, and concerts. Membership rates vary, and all members must purchase an accommodation.
The Shores at Atlantic Beach is made up of a pair of beach clubs. Cabanas at each site have many different pricing options, all with cabin boy service. Membership prices vary and may be split with another family. Amenities include a pool, cafe, changing room, and valet parking.
RELATED: Best Beaches Near Long Island for Kids and Families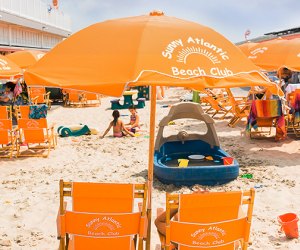 The Sunny Atlantic Beach Club has pools, a sand court, and plenty of kid-friendly fun. Photo courtesy of the club
Aside from plenty of fun in the sun, a chock-full events schedule keeps members busy at this club, which boasts a full-size pool, kids' pool, and sand court. After a long day at the beach, kick back and relax while the staff of The Atrium at Sunny Atlantic serves your dinner on its sundeck, complete with a retractable roof for those rainy summer evenings. At Sunny Atlantic Beach Club, membership requires the rental of a cabin or cabana. Full membership details can be found online.
Beach Clubs in New Jersey for Families
Edgewater Beach and Cabana Club in Sea Bright is an excellent choice for families looking for a relaxing and enjoyable beach experience with its expansive beachfront and crystal clear water. This spot offers a range of kids' amenities, including swim lessons and a club geared toward little ones that hosts martial arts training, cooking lessons, junior lifeguard programs, and more. There's currently a membership waiting list, though families are encouraged to put their names in.
Driftwood Cabana Club is well-known for its popular spray park catering to the littlest beach-goers. Beyond that, this Sea Bright spot offers a robust kids club with swim lessons, arts and crafts, games, and sports. Membership applications may be submitted online.
Chapel Beach Club in New Jersey is a family-friendly destination with a peaceful and picturesque beachfront setting, ideal for families looking to unwind and relax. The club's amenities include a pool, kiddie pool, grottos, and cabanas. It also provides plenty of entertainment options for all ages—a competitive swim team, individualized swim lessons, movie nights, an annual sleepover, and bingo—making it a perfect spot for families to enjoy a fun-filled day by the sea.
Sea Bright Beach Club offers a large beachfront, numerous places to dine, and a wide range of amenities. The club's activities, including swim team, swimming lessons, yoga, and bridge, provide plenty of entertainment options for all ages. Prospective members must receive a recommendation from a current member to be considered.
Promenade Beach Club in Long Branch, New Jersey, offers a variety of family-friendly amenities including a swimming pool, children's playground, and beachfront access. The club also features a game room, movie nights, and a full-service snack bar. All of this is within walking distance of Pier Village. Future members can submit an online application.
A version of this article first published in June 2012, but it has since been updated. Kristen Markel contributed additional reporting.