Sports outings on Long Island offer family traditions from Manhasset to Montauk. If you're eager to catch a game, spectator sports offer great entertainment, and it's possible to take in a variety of events without spending excessively. There are even a host of events that are totally FREE–just bring the kids, a few bottles of water, and maybe a snack or two.
So, batter up–here then are some of our favorite spectator sports options for families on Long Island. And, if you're looking for places to play sports, check out our Kids' Sports Centers and Fun Zones for Long Island Kids Guide.
Where to Watch Auto Racing on Long Island
Racing season: April-November
What child doesn't love monster trucks? And there are plenty of them at Riverhead. Opened in 1951, it is one of the country's oldest stock car tracks, with a 1¼-mile, high-banked oval course that is home to NASCAR stock car racing, demolition derbies, pro trucks, and more. Five to six racing divisions are featured every Saturday night from April through September. Prices can vary, but for the most part children ages 6-12 are a mere $5 and children 5 and younger are FREE. Call or visit the website for upcoming events and prices.
Where to Watch Baseball on Long Island 
Games played June-August
Each year, some of the best college baseball players head to the East End for two months of summertime competition. Games are played at municipal fields in Bellport, Peconic, Riverhead, Sag Harbor, Shelter Island, Southampton, and Westhampton at no charge to fans. The quality of play has improved since the league's debut season of 2008, making it a worthy competitor to Massachusetts' storied Cape Cod summer league. Since 2011, the league has sent more than a dozen players to the major leagues.
Games played April-September
The Ducks are Long Island's representative to the Atlantic League, one of the top independent minor leagues in the country. Fans can catch a glimpse of former major leaguers as well as younger players eager for a chance to reach "The Show." Individual tickets can be had for less than $20, and promotions include pizza nights, postgame fireworks shows, Father's Day barbecues, and more. Kids can even run the bases following select games.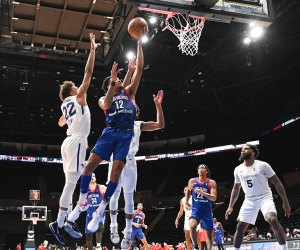 Long Island Nets
Where to Watch Pro Basketball on Long Island 
Home games: Nassau Veterans Memorial Coliseum
Season runs November-April
The Long Island Nets are the G League affiliate of the NBA's Brooklyn Nets. Some players have played in the NBA, while others aspire to a promotion to the parent club. Games against G League rivals are competitive and season tickets start at less than $400. Bargain-hunters take note: Parking at the Coliseum is FREE. Single-game tickets go on sale in the late summer.     
Where to Watch College Sports on Long Island
Adelphi University — Uniondale
Long Island University Post campus — Old Brookville
Hofstra University — Hempstead
St. Joseph's University — Patchogue
Stony Brook University — Stony Brook
Long Island's top colleges compete in a host of NCAA sports. Hofstra and Stony Brook compete in NCAA Division I in basketball, and Stony Brook's football team plays in the competitive Colonial Athletic Association. Some events are FREE; those that require tickets often offer discounts for alumni and current students.
Where to Watch Pro Lacrosse on Long Island
Home games: Nassau Veterans Memorial Coliseum
Season runs December-May
Come spring, lacrosse is king in high schools across Long Island. Why not treat your little lacrosse fan to a professional game at nearby Nassau Coliseum?  Individual-game tickets for the New York Riptide, the region's National Lacrosse League franchise, begin at $25, and season tickets begin at $225. There a number of promotional nights on the schedule, including a holiday season extravaganza, and kids 10 and younger can apply to become ball kids.
Where to Watch Horse Racing and Equestrian Sports on Long Island
Season runs from late April through mid-July and again from mid-September through late October
Opened in 1905, Belmont Park is one of the oldest continually operating thoroughbred racing facilities in the nation. It is, of course, home to the third jewel of the sport's Triple Crown, the Belmont Stakes. But it also hosts more than a dozen top-tier stakes races each year. General admission is a mere $5 and the park features a number of family days and special events. Families are welcome to picnic on the park's massive grounds.    
Sunday, August 28-September 4, 2022
240 Snake Hollow Road
As a world-class equestrian competition, it is hard to believe tickets for the week-long Hampton Classic can be as little as $20 per carload. What's more, general admission is FREE for the Monday competition and seniors are FREE Tuesday, August 29-Thursday, September 1. Tickets get pricier as the week continues, climaxing with the Grand Prix on Sunday, September 4. Competition is held in both hunter and jumper disciplines in youth and adult divisions.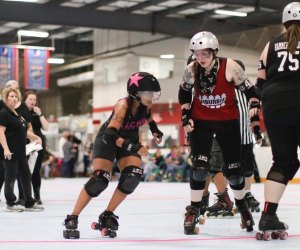 Long Island Roller Rebels
Where to Watch Roller Derby on Long Island
The Rebels are LI's entry in the Women's Flat Track Derby Association. Come out to United Skates of America for a bruising good time. Admission is FREE, and interested skaters can even try out for the team.
Where to Watch Running Events on Long Island
September 17, 2022
Starting at Southampton Intermediate School 
70 Leland Lane, Southampton
A recent survey included the Hamptons Marathon among the 20 best in the United States, and if you follow its course you can see why. Beginning in Southampton, it straddles the ocean then winds through woods along a flat course that is friendly to spectators. Top-tier runners come to enjoy the scenery, but also to prep for the New York City Marathon 5 weeks later. As in New York City, spectators are encouraged to line the route, serve water, and cheer the runners on. Admission is FREE and it's an ideal way to introduce your child to the pleasures of road running.
Held in late April/early May
The Long Island Marathon is actually four distinct races—a traditional marathon of 26.2 miles, a half-marathon, a 10K race, and a 5K—held over three days. Spectators are encouraged to see the runners off at the starting line, enjoy all the park has to offer, and then return to the finish line to cheer on the winners. 
Where to Watch Sailing Races on Long Island
Wednesday nights, Memorial Day-Labor Day
Every Wednesday beginning at 6pm, North Fork sailors engage in a friendly, but spirited race around Robin's Island. Their majestic sails dot Peconic Bay and delight race enthusiasts, who gather at New Suffolk Beach to greet them. With favorable wind, the race can last less than two hours, with most sailors adjourning to a local eatery to discuss the competition. It's one of the North Fork's grandest summer spectacles and it is, of course, FREE.
And coming in 2025…
Where to Watch Professional Golf on Long Island 
Some of the world's top players will compete at the famous Black Course in professional golf's most significant team competition. Europe's best will take on America's finest players in what is sure to be a sold-out, 3-day event. Tickets will not be cheap, but fans on a budget can save a bit by purchasing a ticket to one of the practice rounds before competition begins on Friday, Stay tuned for more details.      
Photos courtesy of the organizations