Looking for the best baby swim classes in Westchester? Here are eight great options to add to your list. 
There is nothing cuter than a baby's first reaction as they dip their toes in the water. However, those initial experiences with water should be enjoyable and take place in a comfortable and safe environment. Parent-and-me swim classes are a great way to introduce babies to the water and teach basic swimming skills in a fun setting that will establish a lifelong love of swimming. The classes also provide a great bonding experience for parents and their little ones.
We have gathered the details on the top swim schools in Westchester that offer swim classes for babies with an accompanying parent. Classes are offered for babies as young as 4 months, and many offer toddler transition classes to prepare toddlers to attend more advanced swimming classes on their own. Many classes include water games, toys, and songs to make learning fun. For more swim classes in Westchester aimed at all ages, see our roundup of the top swim lessons for Westchester kids. And find more summer fun in our Summer Activity Guide for Westchester Kids. 
We're adding more events to our Family Activity Calendar every day, so don't forget to check it frequently. 
The Champs Swim Club location in Tarrytown offers private, semi-private, and group lessons for parents with babies of all ages. Instructors use a hands-on approach to teach children water safety and swimming skills. 
2. Club Fit – Briarcliff Manor & Jefferson Valley 
Parents act as co-instructors for part of each class, designed for children from ages 6 months-2 1/2 years old. The goal is to build confidence to ease the transition into independent lessons. Students will be introduced to floating on their backs and front, jumping in unsupported, and submerging. Toddlers can enjoy exploring water activities that promote the development of arm and leg movements as well as breath control.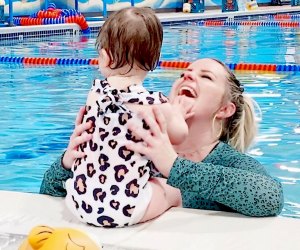 Goldfish Swim School 
Infant swim lessons are offered for babies as young as 4 months with a parent accompanying. In these small group classes of no more than four parent/child participants per instructor, parents bond with their children while learning all about water safety as well as basic swimming skills. Goldfish's "shiver-free" pools are maintained at 90 degrees to make babies' first experiences with water comfortable and carefree. 
Parent-and-me classes are offered for ages 6 months-2 years. Infants and toddlers learn to be comfortable in the water and develop swim readiness, while parents learn about water safety and drowning prevention.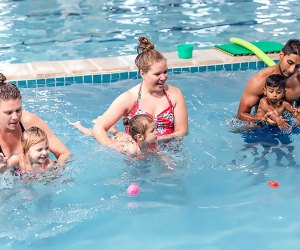 SafeSplash Swim School 
Offering both parent-tot and toddler transition classes, babies can start learning to swim at SafeSplash from 6 months-3 years. Parents work with their children to develop the foundational skills crucial for learning to swim and being safe in the water. Classes have a student-to-teacher ratio of up to six parent/student combos to one instructor. 
Sunsational Swim School offers parent-and-me swimming lessons in the privacy of your own pool or community pool. The lessons focus on helping babies as young as 6 months of age learn how to float, kick, fall into the water, safely resurface, and find the pool edge before holding on and climbing out. Instructors use games, repetition, and even songs to make the learning process fun and memorable.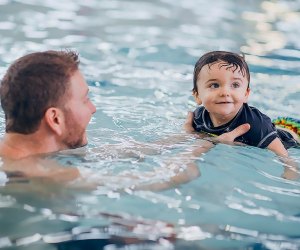 SwimTank
7. SwimTank – West Harrison
The parent/child classes at SwimTank are for babies 4 months-3 years and promote water adjustment, sensory stimulation, core strengthening, motor development, socialization, and bonding between caregiver and child. The program starts with babies learning to go under the water, and tots can earn badges for various achievements in the courses. Classes are available in a 3:1 or 2:1 ratio of parent/child combos to instructor.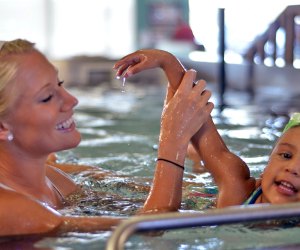 Swimlabs Swim School Westchester
Swimlabs offers two types of swimming lesson programs for kids under the age of 3, ParentTot, and toddler transition classes. The ParentTot group classes are for babies as young as 6 months and include water play, fun songs, and toys in small warm-water pools for a fun and comfortable environment for learning. Babies will learn to be comfortable in the water and gain skills such as breath control, floating, and kicking. Private and semi-private instruction is available. 
Photos courtesy of the schools