With its famous pink-sand beaches, unrivaled natural beauty, and unhurried atmosphere, the island of Bermuda is perfect for family getaways. But even with its slower pace, there are still so many things to do in Bermuda, including sailing and boating, exploring the beaches and nature reserves, visiting cultural sites, shopping, and more. Plus, Bermuda is small and easy to navigate, and its pink buses and gorgeous ferry rides make getting around lots of fun.
Here are 25 things to do in Bermuda with kids, including top attractions, family-friendly Bermuda hotels, and Bermuda restaurants children will love. For more topical family vacation ideas, check out our Caribbean and Mexico family travel guides.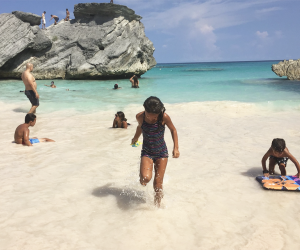 Revel in the turquoise water and pink sand of Horseshoe Bay Beach. Photo courtesy of Sara Marantette
Best Things To Do in Bermuda with Kids
1. Horseshoe Bay Beach
Perhaps the most iconic pink-sand beach on the island, Horseshoe Bay Beach truly has it all—shallow areas for kids, turquoise water, chair and umbrella rentals, a beach-side bar, and nearby hikes with incredible views. Naturally it's one of the most popular stops in Bermuda, but you may still find it uncrowded, especially on the shoulder seasons. After arriving on our Norwegian Cruise Lines ship from Boston, we used the St. George's and West End Mini-bus Service Beach Shuttle to get to Horseshoe Bay, which was fast, friendly, and convenient for transport from the Royal Dockyard.
2. Bermuda Railway Trail
The Railway Trail is a popular National Park in Bermuda for hiking and biking. It used to serve as a railroad and has been converted for recreational use, essentially reaching from one end of the island to the other. At 18 miles, you'll be greeted by scenic paths and even footbridges, with breathtaking views at every turn.
Open daily at 9am with reasonable admission fees, this ocean-side zoo and aquarium is an educational and fun visit for families with kids of all ages. Take a walk along the shaded paths to see animals and marine life from around the world, including Galapagos tortoises, wallabies, lemurs, and more. Visit the Discovery Room for hands-on kids' activities including puzzles, games, and interactive learning stations. Hold local marine life at the touch pool. And learn about the history of the island in the Natural History Museum.
Related: 30 Best Warm and Sunny Family Vacation Ideas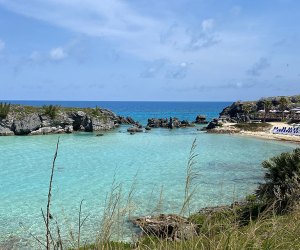 St. George's is full of both history and beauty.
4. St. George's
St. George's is its own island on the East End of Bermuda, and it's a beautiful and worthwhile ferry ride past all of Bermuda's scenic shores. Founded in 1612 and boasting surviving fortifications, St. George's has been named a UNESCO heritage site. Enjoy a peaceful walk by King's Square, see the ship replica of the Deliverance, and make a fun stop at Lili Perfumery for a little shopping. Take the walk out of town towards the Unfinished Church, which looks like medieval ruins, and head to Tobacco Bay. There's a bit of a hill, but it's not too difficult, and the hiking around that area has gorgeous views.
Located on the northeastern tip of St. George's, Fort St. Catherine is Bermuda's largest fort. Built in 1614, the fort features exhibits and artifacts showcasing 17th-century island life. Kids will love exploring the fort's tunnels and towers, and even crossing a drawbridge. Call ahead, as Fort St. Catherine is not always open.
6. St. David's Island
The historical Carter House museum is located on the quiet East End island of St. David's. The museum features exhibits, demonstrations, and spectacular views that provide a fun and educational stop for the family. Also on St. David's is the beautiful Cooper's Island Nature Reserve for gorgeous hikes along breathtaking turquoise waters. Take some time to rest at Clearwater Beach and take in Bermuda's natural beauty, too.
The Bermuda Botanical Gardens feature 35 acres of natural beauty. Take a walk through the grounds to view a variety of plants, flowers, and trees and explore the water features and fountains. Then, enjoy a scenic picnic with the family.
A Bermuda Train Trolley ride is one of the most fun things to do in Bermuda with young children. Tour Bermuda's West End and its capital city, Hamilton, with the Bermuda Train Company aboard a miniature red trolley—a little train lover's dream!
Related: 30 Things To Do in the Florida Keys with Kids (Besides Key West)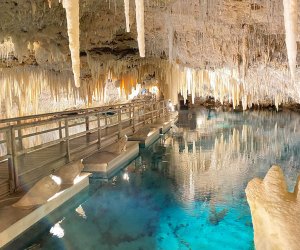 Bermuda's gorgeous crystal caves are millions of years old. Photo courtesy of the caves
Bermuda's Crystal Caves are a spectacular adventure for kids and one of the prettiest things to do in Bermuda. They are believed to be millions of years old, but were only discovered by Bermudian teenagers in the early 1900s. Located in the East End of Bermuda near St. George, the beautiful underground caves feature stalactites and stalagmites and a boardwalk over azure waters to wow visitors of all ages.
For a tiny admission fee, visit Gibbs Hill Lighthouse—one of only two cast-iron lighthouses still in existence—and climb its 185 steps to view Hamilton and nearly the entire Bermuda island chain on a clear day. Built in 1846, the lighthouse also has a dining room inside with kid-friendly options for lunch.
11. Pink Buses
Bermuda's buses are famous for their lively pink color, making them an icon of the islands. With many bus routes traversing the prettiest areas of the island, the bus ride itself is a fun and informative way for families to get around. Purchase a or a day pass ahead of time or bring exact change.
Dolphin Quest is at the Royal Dockyard, located within the National Museum of Bermuda. The museum itself has a variety of interesting exhibits, and if you are up for more of an adventure, check out the dolphin encounters for kids.
Fun Free Things To Do in Bermuda with Kids
13. Elbow Bay Beach and John Smith's Bay Beach
Hitting the beach is one of the best things to do in Bermuda, and you won't go wrong at either of these gorgeous beaches. Enjoy the crystal-clear water, and even snorkel if you are feeling adventurous. Many fish will even come close to shore, making wildlife viewing easy and fun for kids.
Related: Visiting CocoCay, Royal Caribbean's Private Bahamas Isle, with Kids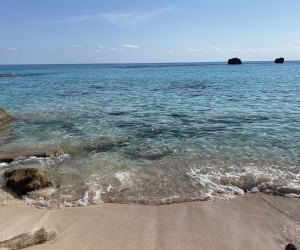 Swim and snorkel in the clear waters of Church Bay Beach. Photo courtesy of Lauren Saunders
14. Church Bay Beach
Church Bay Beach is a quiet family destination for swimming and snorkeling. It's a bit out of the way, and there are no restrooms. Still, it's an easy bus ride on Bermuda's wonderful public transportation system, which I found to be fast, reliable, and inexpensive.
Centuries-old British colonial War Department storehouses and buildings have been transformed into a shopping and tourism adventure spot in this working marina. Visit the Clocktower Mall in Royal Dockyard, where you can also purchase bus passes to see the rest of the island. Cruises often dock at the Royal Dockyard, so stop by its excellent Visitor Information Centre for top-notch service, free maps, and bus information. If you don't mind spending a few bucks, stop by Bermuda Fun Golf for miniature golf with ocean views.
16. Downtown Hamilton
Head downtown for for spectacular water views and fun window shopping in the city center. Hamilton is a delightful small city with great food and shopping on along Front Street. You can also find an ever-helpful Visitor Information Centre and a Ferry Terminal. Walk into City Hall to view the gorgeous lobby and some art, or visit the lovely Queen Elizabeth Park with fountains, flowers, and benches for a rest.
Put on a swimsuit and head to beautiful Blue Hole Park, where you can check out caves and swimming holes along with the colorful fish of Bermuda.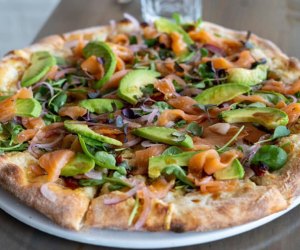 Kids will love making their own pizza at Village Pantry. Photo courtesy of the restaurant
Kid-Friendly Bermuda Restaurants
This roadside restaurant has a large outdoor patio with direct access to a children's play area, so the kids can play while waiting for their food. The menu is heavy on locally grown vegetables and local fish, and the kids' menu features fun options like make-your-own pizza and chicken noodle soup.
This Italian joint is one of the longest standing restaurants in Bermuda. The menu features a huge variety of brick-oven pizzas, pastas, and Italian favorites like chicken parmigiana. There's also a kids' menu, but any item on the regular menu can be ordered in a kid-sized portion as well.
The Swizzle Inn, Bermuda's oldest pub, is known for its relaxed atmosphere, large patios, and great food. Plus, Bermuda's national drink, the Rum Swizzle, was created there. The massive menu includes a kids' menu, and children will love being allowed to write on the wall and leave their mark on the island.
This pistachio-colored cottage serves up roughly 30 flavors of homemade, all-natural ice cream, from classic vanilla to Dark 'N Stormy, a Bermuda specialty. It's located across the street from The Swizzle Inn, making it the perfect place to grab some dessert at one of the patio tables.
Related: 20 All-Inclusive Resorts We Can't Wait to Visit Again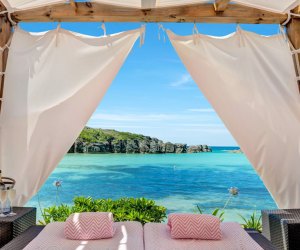 Enjoy a luxurious stay at the Hamilton Princess. Photo courtesy of the resort 
Great Bermuda Hotels for Kids and Families
If you're looking for luxury, the Hamilton Princess is the way to go. It offers both rooms and suites, four restaurants, a private beach, an infinity pool, a spa, and plenty of activities such as tennis, golf, pickleball, and water sports. A highlight for families is the Prince & Princess Kid's Club, where kids ages 5-12 can partake in supervised activities including arts and crafts, games, obstacle courses, and more on Mondays through Fridays in July and August.
Sometimes, one of the best things to do in Bermuda is to simply spend the day lounging at your hotel. This family-owned resort is a great place to do just that. It's located in an absolutely stunning location on the ocean along Bermuda's South Shore and has a private beach, a spa, three restaurants, and a variety of room and suite options to fit any family.
The grounds of this lush resort feature caves along the water's edge in Bailey's Bay. The resort boasts two private beaches, a freshwater pool, a cave spa, a state-of-the-art fitness center, and endless activities and water sports. Plus, it's the only resort on the island with an all-inclusive option.
Related: Best Things To Do in Aruba with Kids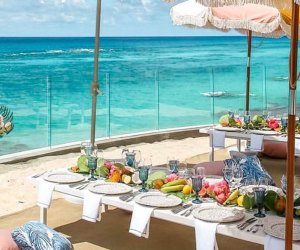 Azura Bermuda boasts gorgeous cliffside views. Photo courtesy of the hotel
Nestled on the cliffs along Bermuda's South Shore, the Azura Bermuda boasts dazzling views of the turquoise ocean. The hotel features pink-sand beaches, a clifftop pool, a fitness center and spa, and an outdoor restaurant. Larger families can enjoy one- and two-bedroom suites with ocean views.